Wednesday, August 1, 2001,
Chandigarh, India



B U S I N E S S
| | | |
| --- | --- | --- |
| | CORPORATE NEWS | |
Reliance Q1 net jumps 14 pc
Mumbai, July 31
Reliance Industries Ltd (RIL) reported a 14 per cent jump in its net profit at Rs 618 crore for the first quarter ending June 30, 2001, as against Rs 543 crore in the same period of fiscal 2000-01.


Mahindra & Mahindra
Indo Gulf
Elder Pharma
Birla Ericsson Optical
Can Fin Homes

Finolex Cables
United Phosphorus
Sri Adhikari Bros
Ajanta Pharma
IEC Software
Reliance Industries offer to UTI
Mumbai, July 31
Reliance Industries (RIL) is willing to provide liquidity support to the UTI if the country's largest mutual fund intends to dilute its share holding in strategic firms like BSES Limited or L&T in favour of RIL.
Markfed wheat for Dubai firm
Chandigarh, July 31
Markfed will export 25,000 tonnes of wheat to a Dubai-based company which will generate $ 25.25 lakh (Rs 12 crore).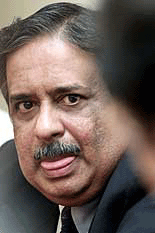 M.Damodaran, Chairman of India's largest mutual fund manager, the Unit Trust of India, reacts to a question at a news conference in Mumbai on Tuesday. Mr Damodaran said that the UTI had geared itself up to meet redemptions to clients who have lost money when the purchase window reopens on August 1. Prime Minister Atal Behari Vajpayee offered to resign as charges flew over the crisis engulfing UTI, but party colleagues persuaded him to stay on.
— Reuters