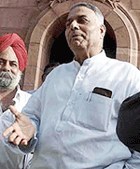 RS adjourned amid din
New Delhi, July 31
The Unit Trust of India muddle and the offer of Prime Minister Atal Behari Vajpayee to resign after the National Democratic Alliance partner Shiv Sena alleged the involvement of the PMO in it today led to the adjournment of the Rajya Sabha amidst noisy scenes.

Finance Minister Yashwant Sinha coming out of Parliament House after UTI muddle rocked Parliament in New Delhi on Tuesday. — PTI photo

In Health Tribune today

New US visa fee
New Delhi, July 31
The US Embassy here today announced that the visa application and issuance fees for all categories will change from tomorrow following the fluctuation in the exchange rate of rupee, which is now Rs 48 to $ 1.
THE TRIBUNE MAGAZINES
On Mondays

On Sundays
On Saturdays
MLA booked for looting wine shop
Alleges cops in cahoots with satta king
Fatehgarh Sahib, July 31
The district police has registered a case against Mr Balwant Singh Shahpur, Shiromani Akali Dal MLA, and his men for allegedly looting a wine shop and grievously injuring a salesman there.
Flashfloods: 9 Gaddis still missing
Dharamsala, July 31
Apart from the bodies of three teenaged girls and one labourer recovered from different places, the casualty figure due to flashfloods in the Deol and Multhan areas of Chotta Bhangal in Baijnath subdivision could be much higher, as nine Gaddis are still reported to be missing.



Hospital that gets no patients
Location main impediment
Srihargobindpur (Gurdaspur), July 31
Empty liquor bottles can be found in the 25-bed rural hospital at Rampur Talwara (Srihargobindpur) and the Community Health Centre, Bham. This sums up the condition of the health institutes being run in the border district.
Parliament security being revamped
July 31, 2001
Vajpayee to visit Pak
July 30, 2001
Pankaj gets 10-day police remand
July 29, 2001
Report opposes PM-level talks
July 28, 2001
Key man in Phoolan killing missing
July 27, 2001
Phoolan Devi shot dead in Delhi
July 26, 2001
J&K killings are not jehad: PM
July 25, 2001
47 feared dead as truck falls into canal
July 24, 2001
16 massacred in Kishtwar
July 23, 2001
6 pilgrims among 13 killed in 2 blasts
July 22, 2001