NDA reposes faith in PM
New Delhi, August 1
With the National Democratic Alliance partners reposing unflinching faith in him and the BJP leadership accepting his supremacy, Prime Minister Atal Behari Vajpayee today withdrew his resignation threat and attended the Lok Sabha.
No threat to govt: Thackeray
Relents after meeting George


Mumbai, August 1
Rallying behind Prime Minister Atal Behari Vajpayee, the Shiv Sena today ruled out any threat to the NDA government at the Centre in the wake of Sena members of Parliament boycotting the NDA meeting in the morning.
In Science Tribune today
THE TRIBUNE MAGAZINES
On Mondays

On Sundays
On Saturdays
ADGP, 3 others convicted
Murder of NRI businessman
Patiala, August 1
Punjab Additional Director-General of Police Daljit Singh Bhullar and three others have been convicted on charges of brutally murdering non-resident Indian and their business partner Dr Paramjit Singh Sahota in 1996 by a local court here today.
New Delhi, August 1
Differences on the claim to the property of slain Phoolan Devi, came to the fore here today with her husband Umed Singh announcing the formation of a trust and her sister refusing to hand over the property to him.
Charges and counter charges between Umed Singh, husband of Phoolan Devi, and her sister Munni Devi (left) at a Press conference on Wednesday. Umed Singh called the Press conference to announce the creation of a trust fund in Phoolan Devi's name. — PTI photo
IN PASSING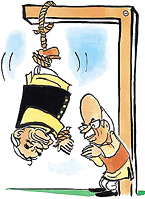 Thanks Atalji. You have given a new lease of life to the NDA!

by Sandeep Joshi
Was Pankaj in jail on day of killing?
New Delhi, August 1
The investigation into the daylight slaying of the Samajwadi Party MP and former bandit queen, Mrs Phoolan Devi, took a curious turn today with the Delhi Police rushing a team to Hardwar to verify a report that the main suspect, Pankaj alias Sher Singh Rana, was imprisoned in the district jail there on July 25, the day of the incident.
Haryana MLA acquitted in murder case
Chandigarh, August 1
In a complete reversal of events, a Division Bench of the Punjab and Haryana High Court today acquitted Haryana MLA Nafe Singh and another accused sentenced to life imprisonment in a murder case by Jhajjar's Additional District and Sessions Judge.




Poor response to UTI package
Investors angry, demand action against guilty
Chandigarh, August 1
The special liquidity package announced by the management of the Unit Trust of India got off to a poor start as hardly any investors in the premier fund unit scheme — US-64 — sought redemption on the opening day today throughout the region.
Vajpayee offers to quit office
August 1, 2001
Parliament security being revamped
July 31, 2001
Vajpayee to visit Pak
July 30, 2001
Pankaj gets 10-day police remand
July 29, 2001
Report opposes PM-level talks
July 28, 2001
Key man in Phoolan killing missing
July 27, 2001
Phoolan Devi shot dead in Delhi
July 26, 2001
J&K killings are not jehad: PM
July 25, 2001
47 feared dead as truck falls into canal
July 24, 2001
16 massacred in Kishtwar
July 23, 2001