Bungling of gurdwara funds to be probed
Amritsar, August 1
The new management of Takht Patna Sahib is likely to take drastic decisions, including the appointment of a new Jathedar, sending the draft proposals to the Bihar Assembly for amending the 45-year-old Act and ordering a probe into the alleged embezzlement by the former president, Mr S.S. Ahluwalia, a Rajya Sabha member of the ruling BJP.
Phase IV of corridor scheme to start soon
Amritsar, August 1
The Minister for Local Government, Punjab, Mr Balramji Dass Tandon, has announced that phase IV of the corridor (galiara) scheme for beautification of the surrounding areas of the Golden Temple will be taken shortly. The scheme which has been hanging fire for the past couple of years will be taken up as the funds sought from the Centre for it were expected soon.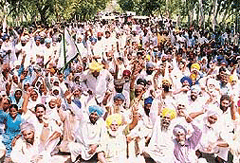 Activists of the BKU raise slogans against the Punjab Government while holding a rally on the Bathinda-Mansa road near Maur Mandi when they were not allowed to enter the town on Wednesday. — Tribune photo Kulbir Beera
BKU (E) holds rally against lathi charge
Maur Mandi (Bathinda), August 1
Thousands of activists of the BKU (E) held a rally on the outskirts of the town today to express their resentment against the lathi charge by the police on union activists and residents of Maiserkhana village on July 24. The police had made elaborate arrangements to prevent the activists from entering the town to prevent any untoward incident. Police personnel were deployed at various entry points to the town.
PSEB to buy power with bonds
Patiala, August 1
The cash-strapped Punjab State Electricity Board will now pay part of its dues for power purchased from Central generating agencies through power bonds guaranteed by the state government.


SAD counters BSP move
Plan to woo Backward Classes
Bathinda, August 1
To counter the BSP move and to strengthen base among the Scheduled Castes and Backward Classes, the SAD has initiated several programmes. The Backward Caste Welfare Dal, a wing of the SAD, has started setting up its unit at district, block, village and "mohalla" level.


'Grant autonomy to Kashmir'
Jalandhar, August 1
Dubbing Kashmir as a major bone of contention and a cause of mutual hatred between India and Pakistan, noted journalist and parliamentarian, Kuldeep Nayyar, today suggested that both countries should grant 'greater autonomy' to the disturbed hill state.
Police settling scores: MLA
Fatehgarh Sahib, August 1
Mr Sanjeev Gupta, DIG (Patiala Range) has ordered an inquiry into the alleged looting of a wine shop and beating up of certain persons by Mr Balwant Singh Sahpur, SAD, MLA, and the role of the district police. The inquiry has been marked to the SP (City), Patiala.
No Rafi memorial in home state
Jalandhar, August 1
Mohammed Rafi's music continues to haunt music lovers even after 21 years of his death, yet none of the successive governments of his home state have bothered to set up a memorial to him.
2 girls injured as parapet gives way
Amritsar, August 1
Two girls were severely injured when the parapet of a double-storeyed building of Garhwali Sabha collapsed here on Monday. The building located at Krishan Nagar near Chowra Phatak was under construction by the Public Works Department. Mr Tajwar Singh, member of the sabha, blamed substandard material used in construction work as the cause of the mishap.
Probe ordered into cracks in houses
Sunam, August 1
Mr Parkash Singh Badal, Chief Minister, Punjab, has directed the Deputy Commissioner, Sangrur, Mr Sarbjit Singh, to conduct a high-level survey of the badly damaged houses and shops located in the Kailash Parbat locality here.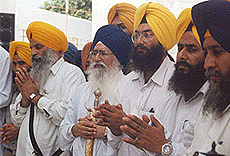 Giani Joginder Singh Vedanti, Jathedar, Akal Takht, and activists of the Sikh Students Federation (Mehta) perform 'ardas' at Akal Takht after giving a call for total de-addiction in society on Wednesday. — Photo Rajiv Sharma

Vedanti's call to curb drug addiction
Amritsar, August 1
As part of the de-addiction drive, the Jathedar, Akal Takht, Giani Joginder Singh Vedanti, gave a clarion call for eradicating the evil at the Akal Takht today. Expressing concern at the alarming rise in the number of drug addicts in villages, he said majority of the families in villages had fallen prey to the evil.
Illegal vehicles ply with impunity
Morinda
Tempos and locally built three-wheelers are used to ferry passengers from Morinda to the rural areas around the town. These vehicles, which are the most common mode of transport in this area, are generally overloaded with passengers in gross violation of safety norms.
Minister unhurt in road accident
Kharar, August 1
Mr Manoranjan Kalia, Medical Education and Research Minister, Punjab, had a narrow escape in a road accident last night when his car (PB-08-AD-9000) was hit by a Tata Sumo (JK-02-G-4216) near Chanalon village on the Kharar-Kurali road.
RAJPURA DIARY
Fake notes in circulation
Rajpura
Spurious currency notes of Rs 500 denomination have made their appearance in Rajpura. The police has arrested two persons who were trying to get such notes exchanged at shops here. Their modus operandi was to purchase goods worth Rs 20 or Rs 50 from a shop and offer a 500-rupee note for the payment and get back genuine currency from the shop.
Govt guarantees loan for sewerage
Rampura Phul (Bathinda), August 1
Mr Sukhbir Badal, MP and SAD general secretary, said the state government had guaranteed a loan of Rs 8.5 crore to be sanctioned by the HUDCO for laying sewerage in the town.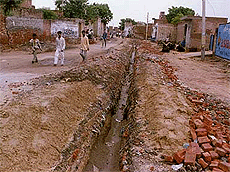 A trench dug up by one of the departments of state government in the Kanhaiya Nagar area of Bathinda for the past few days poses danger of accidents. No work has been done by the authorities concerned.
— Tribune photo Kulbir Beera.
Lovers attempt suicide
Ludhiana, August 1
Two lovers attempted suicide in Lalton village, about 15 km from here, today. While the girl died on the spot, the boy is struggling for life in a local hospital. According to reports received here, Manpreet and Dheerpal Kaur, both around 20 years old, had gone together to Ludhiana.
Staff watch cricket, work hit
Pathankot, August 1
Most of the employees of the various government departments remained busy watching cricket match on television being played between India and Sri Lanka. According to sources, a large number of employees of the local bodies department and other offices after marking themselves present in the morning were found watching T.V. at local dhabhas, hotels and other places.
Undertrial escapes from lock-up
Amritsar, August 1
Lakhwinder Singh, alias Lakha, a drug peddler and undertrial, gave a slip to the Kotwali police on Monday night after breaking bars of the lock-up. Lakhwinder was arrested last evening from the telephone exchange area in the city while he was selling drugs. He was found in possession of 10 gm of smack and was booked under Sections 22, 61 and 85 under the NDPC Act.
Jeweller's shop looted
Bathinda, August 1
Six persons, including two women, allegedly looted a goldsmith in broad daylight today. Sources said six persons went to a jeweller's shop. As Mr Rakesh Kumar, one of the relatives of the shop owners, was showing the jewellery, three of them took away gold items worth about Rs 1 lakh.
Registry clerk held for taking bribe
Gidderbaha, August 1
Mohan Singh, a registry clerk in the local tehsil and his agent Chander Mohan were arrested by a team of Vigilance Bureau while taking a bribe of Rs 2000 from Mr Sucha Singh, a resident of Karaiwala village of Muktsar district today.


PTU courses UGC approved: Garcha
Jalandhar, August 1
To end the ongoing controversy regarding the non-approval of some of the courses started at different colleges and centres affiliated to the Punjab Technical University by the University Grants Commission or the All-India Council to Technical Education, the Punjab Technical Education Minister, Mr Jagdish Singh Garcha, today said all degree courses offered by the PTU were approved by the UGC.