THE TRIBUNE MAGAZINES
On Mondays

On Sundays
On Saturdays
A woman looks at Rakhi threads in Kolkata on Friday. Raksha Bandhan will be celebrated on Saturday. — Reuters

HC notices to Centre, TN
IPS officers' transfers
Chennai, August 3
The Madras High Court today ordered issuance of notices, returnable by four weeks, to the Union and Tamil Nadu Government, on a petition seeking a direction not to take any action, including transfer, against the police officials involved in the alleged manhandling of former Chief Minister M. Karunanidhi during his arrest in the Rs 12 crore flyover scam case.
New Delhi, August 3
The police was today trying to ascertain the identity of the mystery man who was masquerading as Ravinder and had supposedly assisted the prime suspect, Pankaj, alias Sher Singh Rana, in the gunning down of Mrs Phoolan Devi, even as two more persons were arrested today and remanded in day's police custody.

Munni Devi and her mother leave after addressing a Press conference in New Delhi on Friday. — PTI photo

In Sports Tribune today
IN PASSING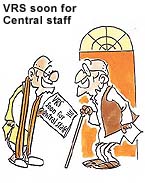 This VRS scheme will certainly reduce the burden of the government!

by Sandeep Joshi
VC alleges threat to life
Patiala, August 3
Punjabi University Vice-Chancellor Dr Jasbir Singh Ahluwalia today claimed that he faced a threat to his life from the Punjabi University Teachers Association leadership and requested the state government to provide him adequate security.
Water to cost more in Haryana
Chandigarh, August 3
With the introduction of a grading system in water tariff charges, water will cost more in Haryana. The hiked charges of the Haryana Urban Development Authority, varying between 25 to 300 per cent, are awaiting government notification.



PAK HINDUS — I
Saga of unending persecution
Kaalian, August 3
Persecution — whether at the hands of Pakistani mullahs or the Indian bureaucracy — is unending for Pakistani Hindus currently residing in Rajasthan. Despite well documented facts and repeated pleas to successive governments in power, they have been denied Indian citizenship for the past 25-30 years.
Motion on UTI defeated
August 3, 2001

Vajpayee opens his heart
August 2, 2001

Vajpayee offers to quit office
August 1, 2001

Parliament security being revamped
July 31, 2001
Vajpayee to visit Pak
July 30, 2001
Pankaj gets 10-day police remand
July 29, 2001
Report opposes PM-level talks
July 28, 2001
Key man in Phoolan killing missing
July 27, 2001
Phoolan Devi shot dead in Delhi
July 26, 2001
J&K killings are not jehad: PM
July 25, 2001