M A I N N E W S
Umed serves notice on Munni
Tribune News Service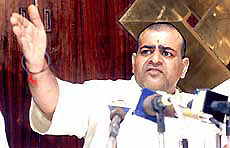 Umed Singh, husband of late MP Phoolan Devi, addressing a Press conference in New Delhi on Tuesday.
— PTI photo

New Delhi, August 7
The infighting among the members of the family of slain MP Phoolan Devi over her legacy showed no signs of subsiding as her husband Umed Singh today served legal notice to his sister-in-law Munni Devi for making "defamatory" allegations against him.
Umed Singh said Munni Devi should retract her allegations about any role of his in Phoolan's murder and apologise to him in public within three days.
"I have sent a legal notice to her. If she does not retract her statements and apologise in public within three days I will file a defamation case against her," he said at a press conference here.

Further police remand for Rana
Tribune News Service
New Delhi, August 7
Pankaj, alias Sher Singh Rana, the main accused in the sensational slaying of the former bandit queen, Phoolan Devi, was remanded to further four days in police custody at the end of the earlier 10-day police remand.
Pankaj, who had confessed to the slaying of the former bandit queen soon after he had surrendered in Dehra Dun, was brought to the Patiala House courts amidst tight security and produced before Mr M. C. Gupta, Metropolitan Magistrate.
In their application, the prosecution claimed that the police required the custody of the main suspect as they had yet to recover a mobile phone and two Sim cards. He was also required to be taken to various places in Uttranchal and Uttar Pradesh to verify certain claims that he had made during interrogation.
The prosecution said they were yet to arrest three other alleged associates who had reportedly participated in the conspiracy to eliminate the Samajwadi Party MP.
The magistrate also allowed the request of the defence that the suspect be medically examined every 24 hours as is mandatory and also that his lawyers be allowed to meet him after every 24 hours.
The suspect, who was brought to the courts with his face muffled later took off the cloth wrapping as he refused the Test identification parade (TIP) since his photographs had appeared in both the print and visual media. Asked by the Magistrate if he had any problems during police remand, he replied in the negative, but added he had fallen ill and had been given medicines which he was still taking.
Meanwhile, the police continued to interrogate seven other suspects who were arrested following Pankaj's disclosures. Police parties were also camping in several cities in Uttaranchal and Uttar Pradesh to trace the three absconding suspects.