Nirupam apologises to PM
Thackeray dares BJP to break ties
New Delhi, August 7
Shiv Sena Rajya Sabha member Sanjay Nirupam, who attacked the PMO in connection with the UTI muddle in the House, has tendered an unqualified apology to Mr Atal Behari Vajpayee.
Umed serves notice on Munni
New Delhi, August 7
The infighting among the members of the family of slain MP Phoolan Devi over her legacy showed no signs of subsiding as her husband Umed Singh today served legal notice to his sister-in-law Munni Devi for making "defamatory" allegations against him.
In Health Tribune today
THE TRIBUNE MAGAZINES
On Mondays

On Sundays
On Saturdays
7 die, 50 hurt as cops fire on flood-hit
Patna, August 7
Lack of relief material, delay in its distribution and alleged irregularities in its distribution has made the scenario tense in the flood-affected areas of Bihar. The anger of the affected masses led to clash with the police force in Aurai block that 'forced' the cops of the police station to resort to gunfire resulting in the death of at least seven persons.
IN PASSING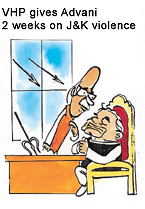 No need to worry, Atalji. These are all friendly warnings.

by Sandeep Joshi
LS adjourned amid turmoil
New Delhi, August 7
The Lok Sabha today plunged into turmoil as angry members from ruling as well as opposition benches repeatedly stormed the well on various issues, forcing the Chair to adjourn the House for an hour.
India's sovereign credit rating down
New Delhi, August 7
International credit rating agency Standard & Poor's has downgraded India's sovereign credit rating for both local and foreign currency to "negative" from "stable" in view of the unchecked fiscal deficit and rising domestic indebtedness.




SGPC dissolves all educational trusts
Alamgir (Ludhiana), August 7
In a major development here today, the Shiromani Gurdwara Parbandhak Committee has decided to dissolve all trusts of the educational institutions founded by it. Although there was no official confirmation of the decision, the SGPC executive member, Mr Harbans Singh Manjpura, who was present at the meeting and owes allegiance to former SGPC chief Gurcharan Singh Tohra said the decision was taken despite a dissenting note by him and Mr Omkar Singh.
Caravan of peace to Pak will continue: Jaswant
August 7, 2001

Bodies cremated, curfew in Bhaderwah
August 6, 2001

Ultras massacre 17 in Doda
August 5, 2001

UTI crisis resolved
August 4, 2001

Motion on UTI defeated
August 3, 2001

Vajpayee opens his heart
August 2, 2001

Vajpayee offers to quit office
August 1, 2001

Parliament security being revamped
July 31, 2001
Vajpayee to visit Pak
July 30, 2001
Pankaj gets 10-day police remand
July 29, 2001