'Helmet not compulsory though very much desirable'
Chandigarh, August 16
Principals of the girls colleges in the city today clarified that although it was not compulsory, the students had been strongly advised to wear helmets while driving two-wheelers.

Girls zip out of their college without paying heed to the Principals' advice to wear helmets. — Tribune photo Manoj Mahajan
More seats, new service for air travellers
Chandigarh, August 16
Within a week of the introduction of a special evening Shatabdi Express from August 25, the air service on the Chandigarh-New Delhi sector, too, is poised for upgradation.
Amendments in Water Disputes Act opposed
SAS Nagar, August 16
To oppose the recent amendments in the Inter-State Water Disputes Act, the AISAD Panthic Morcha would coordinate with regional parties at the Centre. A programmee in this regard would be announced at a meeting of the Panthic Morcha at Amritsar on August 18, said Prof Prem Singh Chandumajra, a former Member of Parliament here today.
Functions mark I-Day celebrations
Chandigarh, August 16
Independence Day celebrations were held at different schools here today. Sacred Heart Convent School celebrated independence day with enthusiasm as students gave brief speeches on patriotism. Cultural items included songs and dances showing different regional and cultural characteristics.
MURDER MILES
Heavy traffic and bad road
Chandigarh
The Kajheri crossing on outer Dakshin Marg, where heavy and light vehicles mingle, is one of the major accident spots in the city. Though police records mention only two major accidents at this junction so far this year, sources say that as many as three or four minor accidents take place here every week.
'Amend archaic laws to promote horticulture'
Chandigarh, August 16
Nearly 37 per cent of the total 149 million metric tonnes of horticultural produce of the country is lost in post-harvest operations, says Mr J.P. Negi, Managing Director, National Horticulture Board.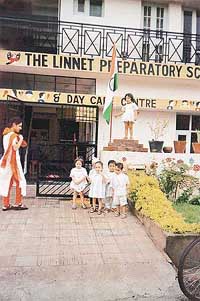 A proud two-and-a-half-year- old child of Linnet Preparatory School and Day Care Centre hoists the National Flag while other children (all under three) join her to celebrate Independence Day in Chandigarh on Wednesday.
IAF to begin rehearsals for Presidential review
Chandigarh, August 16
The Indian Air Force is to begin dry runs and rehearsals for the forthcoming Presidential review 45 days before the grand event, scheduled to be held here on October 17, it is learnt.
Camps on banking facilities
Panchkula, August 16
Stressing on the need to create awareness on various banking facilities available to the farming community, the Deputy Commissioner, Ms Jyoti Arora, said that the district administration, in collaboration with banks, would organise camps in villages.
Revision of poll rolls ordered
Chandigarh, August 16
The Election Commission of India has ordered a special intensive revision of the electoral rolls with January 1, 2002, as the qualifying date.
NMCP president joins Samata Party
Chandigarh, August 16
Ms Poonam Sharma, president of the Nationalist Mahila Congress Party, along with her supporters, today joined the Samata Party. Addressing her decision to quit the NMCP here, Ms Sharma accused the local NCP chief, Mr Gurbachan Singh, of adopting a "dictatorial attitude" in running the party and the projecting Ms Paramjit Kaur Dhillon as the "parallel" NMCP chief.
Residents welfare bodies meet
Chandigarh, August 16
A meeting of various residents welfare associations of Sector 41 was held here today under the chairmanship of Mr R.K. Mann, president of the LIG Residents Welfare Association, Sector 41-D.
Sapling plantation drive at Golf Club
Chandigarh, August 16
A sapling plantation drive was launched at the Chandigarh Golf Club yesterday. Members of the club joined in to start the plantation on the 15th hole. The captain of the club, Mr Sandeep Sandhu, explained that over 400 saplings were being planted at various locations on the Golf Course.
Labourer electrocuted
Chandigarh, August 16
A 20-year-old labourer was electrocuted in the Mauli Jagran area here today. He was engaged in the construction work of a house when the wooden plank he was carrying touched an electric cable.