M A I N N E W S
Virbhadra, Stokes share dais
Tribune News Service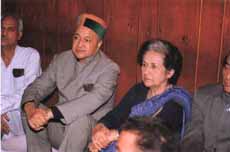 CLP leader Virbhadra Singh and PCC chief Vidya Stokes share the dais on the birth anniversary of Rajiv Gandhi in Shimla on Monday.
— Tribune photo Anil Dayal
Shimla, August 20
The CLP leader, Mr Virbhadra Singh surprised Congress activists today when he came to the headquarters of the PCC for the first time to share the platform with Mrs Vidya Stokes for celebrating the birthday of Rajiv Gandhi.
This is for the first time that Mr Virbhadra Singh has visited the Congress headquarters at the Mall in the past nine months after the nomination of Mrs Stokes as the PCC chief.
Mr Virbhadra Singh and Mrs Stokes had a closed-door meeting after the function. Senior leaders, including Thakur Ram Lal, Mr J.B.L. Khachi, Mr Kaul Singh, Mr Chander Kumar and Mr Rangila Ram Rao, were present at the meeting.
It was after a long time that any function in the PCC office was so well attended. Supporters of Mr Virbhadra Singh, including MLAs and councillors of the Shimla Municipal Corporation, who had so far been abstaining from the functions organised by the Stokes faction, were present there in strength.
Many party activists remarked that the coming of Mr Virbhadra Singh to the party office and intention of the senior leaders to sink their differences was a welcome step.
Mr Virbhadra Singh said he had nothing personal against anyone in the party and differences could be sorted out provided the underline cause for the present discord was removed in a spirit of justice and fairplay.
He made it clear that the problem could not be solved by threatening loyal workers and trying to settle scores with them in the garb of disciplinary action.
Mrs Stokes, Thakur Ram Lal, Mr Khachi and other leaders stressed the need for unity in the party to fight the "anti-people" policies of the BJP-HVC combine government.
Briefing newsmen about the meeting, Mr R.R. Rao, chief spokesman for the PCC and Mr Kuldeep Singh Rathore, secretary, said the Congress was planning to give a bandh call in the state against the policies of the Dhumal government which was "inefficient and was patronising corruption".
Mrs Stokes, who presided over the function, said she had always taken the initiative for keeping the party united. She said that party workers should be respected.
Mr Manoj Kumar, a sitting councillor and a former Mayor, who was recently expelled by the DCC (Urban) for six years from the Congress, also participated in the function.
Earlier, the Congress leaders paid floral tributes to Rajiv Gandhi and garlanded his statue near the secretariat.