IN PASSING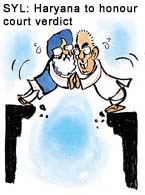 Don't worry, I am always with you Parkashji!
by Sandeep Joshi
SYL: Centre summons Punjab, Haryana
Chandigarh, August 20
The Union Government has called a meeting of top officials of both Punjab and Haryana Governments in New Delhi tomorrow to discuss the river waters issue in the light of the direction given by the Supreme Court.
Gill hails Advani's amnesty statement
New Delhi, August 20
Former Punjab Police Chief K P S Gill today welcomed Union Home Minister L.K. Advani's announcement at Jalandhar that the Centre was considering seriously relief within the ambit of the Constitution for security force personnel facing court cases for the violation of human rights in respect of their actions during counter-terrorism operations.
Kairon-Brahmpura feud alarms CM
Amritsar, August 20
The animosity between the Cooperation Minister, Mr Ranjit Singh Brahmpura and the 'Kairon family' (close relatives of the Chief Minister) may intensify with a close confidant of the former winning the crucial Naushehra Pannua sarpanch's election.
Nine Pakistani soldiers killed along LoC
August 20, 2001

Major infiltration attempts at LoC
August 19, 2001

SC lays down law on non-MLAs as ministers
August 18, 2001

Pak not to raise Kashmir issue at world fora: PM
August 17, 2001

Ultras kill 5 in Udhampur
August 16, 2001

13 killed in HP landslides
August 15, 2001
Take Brajesh off J&K, Jaswant, Advani tell PM
August 14, 2001

NC leader among 12 killed
August 13, 2001

PM, Advani face Pak ultra threat
August 12, 2001

Loktantrik party pulls out of UP Govt
August 11, 2001