Don't play with cricket
THE Union Government's decision not to allow the Indian cricket team to visit Pakistan next month is unfortunate. It appears that the Bharatiya Janata Party-led government is in hurry to destroy the autonomy of the various sports organisations in the country. And the game of cricket is its prime target. The person responsible for injecting a heavy dose of political interference in sports is the redoubtable Ms Uma Bharati. As Minister of Sports and Youth Affairs she has created unacceptable precedents.


| | | |
| --- | --- | --- |
| | OPINION | |
Dealing with Musharraf's Pakistan
The realities are rude and crude
Inder Malhotra
WITHIN a month of the failed Agra summit this country is mercifully beginning to learn how rude are the realities of having to live with a neighbour like Pakistan, especially when it is ruled by a military dictator like General Pervez Musharraf. In this respect, the Independence Day speech of the Prime Minister, Mr Atal Behari Vajpayee, was most revealing.


| | | |
| --- | --- | --- |
| | IN THE NEWS | |
Arzoo gone, desire remains
SABEER Bhatia is relaxing these days. He is on a vacation and was recently spotted attending a fashion show in Mumbai. The man who shot into fame when he sold the Web-based free e-mail company Hotmail to Microsoft for $400 million is taking a break after his latest baby, Arzoo.com, was shut down.
First woman chief of Amnesty
| | | |
| --- | --- | --- |
| | TRENDS & POINTERS | |
Nizam's jewels set to dazzle Delhi
WHEN an exhibition of the Nizam's jewels opens in New Delhi next week, the common man will for the first time get a glimpse of the treasure trove meant only for princes. An 185-carat diamond, 22 perfect Columbian emerald drops, a seven-strand pearl necklace, rings, armbands, gem-encrusted turbans and belts are all part of the Asaf Jahi collection.


| | | |
| --- | --- | --- |
| | LIFELINE | |
Living without a heartbeat
Dug Begley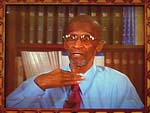 ROBERTS Tools, the world's first recipient of a self-contained mechanical heart, has said the biggest adjustment had been having a "whirring sound" in his chest rather than a heartbeat. The sound took some getting used to, the 59-year-old patient said on Tuesday in his first public remarks since undergoing the ground-breaking surgery on July 2.
Artificial heart patient Robert Tools, 59, from Franklin, KY, talks about his new AbioCor heart during a video press conference at the Jewish Hospital in Louisville on Tuesday. — Reuters photo


Separated from love
Gregor Tholl
FOR many young couples being separated geographically while united in soul is an everyday situation. Whether for a long or a short period, almost everyone has experienced a long-distance relationship. For one person it's hell on earth, because he or she cannot stand being separated from the one they love.
| | | |
| --- | --- | --- |
| | OF LIFE SUBLIME | |
The healing touch of love
C. D. Verma
EVERY one in the factory called Ram Bharose a guru. He was respected because he was an excellent skilled worker, always willing to help and guide others. Dedicated and honest, he stayed on in an electroplating unit in Faridabad despite getting better offers.



Corruption among Bombay police