Top Punjab ultras regrouping
Chandigarh, August 24
Intelligence agencies have noticed fast regrouping of various top Punjab militants lodged in jails across the country and renewed anti-India propaganda by Pakistan — post-Agra summit.
SGPC poll process from Sept 3
Chandigarh, August 24
The Gurdwara Election Commission has started the election process. As per a press note issued today by the commission secretary, Mr Gurdev Singh, the work of registration of voters, Sehajdhari Sikhs and Keshadhari Sikhs, will commence from September 3. There are two sets of forms available to be filled to become eligible as a voter in the gurdwara elections.
Aiyer for sustained Indo-Pak dialogue
Amritsar, August 24
Taking a clear stand on Indo-Pak relations, Congress MP and a former Indian Foreign Service diplomat, Mr Mani Shanker Aiyer, has said the only way to improve relations with our neighbour is to have sustained dialogue. Mr Aiyar who returned from Lahore here today, while talking to The Tribune, said there was no need for a summit at the highest level, but there should be a continuous dialogue with a structured agenda.
Vital crane floated in RSD reservoir
Chandigarh, August 24
Derrick crane, vital for monitoring of dam reservoirs, weighing 480 tonnes and having a 30 metre length and 20-metre width has successfully been floated in the reservoir of the Ranjit Sagar Dam built on the Ravi in Gurdaspur district.


PPCC political conference at Malout
Abohar, August 24
The next political conference of the PPCC will now be held at New Grain Market, Malout, 30 km from here, on September 11. Stating this Mr Gurdas Girdhar a member of the PPCC said here today that Mr Jagmeet Singh Brar, MP, and in charge of the rally would be addressing workers' meetings on August 25 at Moga and Panjgrain, on August 26 at Baghapurana and Kotkapura, on August 27 at Muktsar, Malout and at Lambi, the home constituency of the Chief Minister Parkash Singh Badal.
Advani 'meddling' in Sikh affairs
Amritsar, August 24
The Shiromani Akali Dal (Amritsar) has alleged that a 'secret correspondence' has been on between the Union Home Ministry and the Punjab Government with regard to the Sehjdhari issue. Addressing a joint press conference here yesterday, Mr Jagmohan Singh, Mr Gurjatinder Singh Bhikhiwind, both General Secretaries, and Mr B.S. Sodhi, district president, alleged that the ruling Shiromani Akali Dal wanted to postpone the SGPC elections which were due in October this year.
BJP saffronising education: CPM
Phillaur, August 24
CPM national secretary Harkrishan Singh Surjeet has accused the BJP of saffronising the education system and spreading communalism in the country. Addressing a conference at Zandiala village in this subdivision here this evening, Mr Surjeet said the BJP was working to spread Hindutva in the country which could create disharmony.



Jagmeet for all-party meeting on waters issue
Chandigarh, August 24
Building up further pressure on the Punjab Chief Minister, Mr Parkash Singh Badal, the Punjab Congress today urged him to immediately call all-party meeting to discuss the river-waters issue and to take a united stand to defend the state's riparian rights and claims.
66 level crossings to be manned: DRM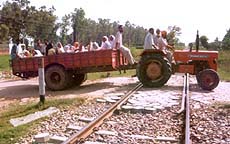 Amritsar, August 24
The 700-odd unmanned level crossings in this region have become death traps with hundreds of persons dying due to accidents, the Divisional Railway Manager, Ferozepore Division, Mr J. S. Marwaha, said while talking to this correspondent here today. He expressed grief over the killing of 11 persons near Gurdaspur when a tempo was overrun by the Ravi Express on the Amritsar-Pathankot section yesterday.
Dalit employee transferred 5 times
Bathinda, August 24
Is the Department of Social Security for Women and Child Development, Punjab, rendering the same service for which it has been set up? Going by the plight of a Dalit woman employee of this department who has been transferred five times, one would reply the question in negative. Ms Raj Surinder, Child Development Project Officer, was transferred to Talwandi Sabo from Abohar on May 16, 2000.
India, Pak must reunite: Kewal Singh
Amritsar, August 24
Even as leaders of both countries have accepted the harsh geographical and historical reality of the Partition, the open letter written by Giani Kewal Singh, Jathedar Takht Damdama Sahib, to Pakistan President, Pervez Musharraf and Prime Minister Atal Behari Vajpayee for the reunion of India and Pakistan, may have serious ramifications.
PATIALA DIARY
Shifting of market hangs fire
Patiala
The authorities decided in 1978 to shift the sprawling tractor market and the adjoining 'Kabari Bazar' on Bahera Road to another site. Shopkeepers were asked to deposit Rs 1,000 each and were assured that they would be provided with plots elsewhere.
CM attends Lamba's bhog ceremony
Samana. August 24
Chief Minister Parkash Singh Badal today attended the bhog ceremony of Balwinder Singh Lamba, brother-in-law of Mr Joginder Singh Panjrath, an executive member of the SGPC, at the Aggarwal dharmshala here. Mr Badal said Balwinder Singh was a dedicated worker.
Directory of NRIs to be released
Patiala, August 24
A directory containing the details of NRIs residing in all the districts of the division falling under the authority of the Deputy Commissioner is being prepared. The data will be collected following a survey carried out with the help of the field staff.
Punjab SLP on Anandgarh admitted
Chandigarh, August 24
The Supreme Court today admitted a special leave petition (SLP) of the Punjab state against the Punjab and Haryana High Court's order to strike down the acquisition of land for the controversial Anandgarh project but rejected stay.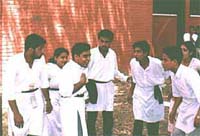 A scene from the play, "Fire of Peace," written and directed by Surjit Jugnu.
— Photo Subhash Patialvi


Play depicts woes of poor
Patiala
The problems of corruption, unemployment, dowry and war are highlighted in the Nukad Natak staged by theatre students on the campus of Punjabi University. The play, "Fire of Peace", depicts the problems faced by the rural population of the country.
'Ban' Bhawsagar granth
Amritsar, August 24
Residents of the Kahnuwan block of Gurdaspur district, accompanied by Dal Khalsa and Human Rights Democracy Forum leaders, in a memorandum submitted to the Governor and the Chief Minister, Punjab, sought ban on "bhawsagar sammunder", a granth, and immediate arrest of its author Baba Pyara Singh Bhanyara, who has already been excommunicated from the Sikh panth.
Technocrats stage dharna
Chandigarh, August 24
On a call given by the Punjab Technocrats Action Committee, agricultural technocrats of Ropar and Chandigarh units today staged a dharna at the Matka Chowk in Sector 17 here. The technocrats have been protesting since August 20.
Challenge demotions in SC: Gosain
Chandigarh, August 24
The Deputy Speaker of the Punjab Vidhan Sabha, Mr Satpal Gosain, yesterday urged the Punjab Chief Minister, Mr Parkash Singh Badal, to question in the Supreme Court the judgement of the Punjab and Haryana High Court delivered on August 20 ordering demotion of thousands of state police personnel.
Bitta advocates amnesty for cops
Bathinda, August 24
Mr Maninderjit Singh Bitta, Chairman, All-India Anti-Terrorist Front, while advocating the need for a national government at the Centre, urged the Union Home Minister, Mr L.K. Advani, to make arrangements for granting general amnesty to Punjab Police officers who have been facing trials in various courts for the violation of human rights during the days of terrorism in Punjab.
Army recruitment rally from Sept 4
Amritsar, August 24
The Army will organise a recruitment rally for soldier (general duty), soldier (technical) and soldier (nursing assistant) belonging to all castes from September 4 to September 7 at Dera Baba Nanak, including wards of ex-servicemen exclusively from Gurdaspur district.
Indigenous way to tackle bollworm
Bathinda
As efforts of agriculture experts and farmers have failed to control the attack of the American Bollworm on the cotton crop, the farmers of the region have devised an economical way to tackle the problem.
Remit farmers' loans: BKU (L)
Mansa, August 24
"The only solution to save farmers from the economic crises being faced by them is to remit loans outstanding against them." This was stated by Mr Ajmer Singh Lakhowal, president of Bharatiya Kisan Union (Lakhowal), while talking to mediapersons here today. He said farmers of Punjab were under a debt of Rs 10,000 crore.
'Disinterest' of farmers led to scheme failure
Bathinda, August 24
Dr S.S. Bains, Director, Agriculture, Punjab, said the Integrated Pest Management (IPM) Scheme has failed due to the lack of cooperation from farmers. In an interview with this correspondent yesterday, Dr Bains said the IPM failed due to the fact that the farmers were not ready to compromise on the quantity of the produce.
Farmers' march on Sept 15
Patiala, August 24
The Agricultural and Farmer Development Front of the state has decided to hold a series of 'kisan chetna rallies' which will include the villages from the districts of Patiala and Fatehgarh Sahib.


Special task force to check highway robberies
Abohar, August 24
A special task force has been set up under the DSP (D) to investigate cases of highway robberies and killings on the Fazilka-Jalalabad road. Five SHOs have been directed to assist the DSP (D) to nab the culprits. The killing of a trader from Amritsar at Jalalabad was a matter of serious concern for the law enforcing agency.
Surprise visit by Health Minister
Gurdaspur, August 24
Dr Baldev Raj Chawla, Health Minister, after a surprise visit to the Civil Hospital here today directed Medical Officers to ensure that no sex determination test was done in their respective jurisdiction. He advised them to create awareness in this regard so that male and female ratio was maintained.
MC comes under fire
Abohar, August 24
The failure of the civic authorities to provide potable water, figured at a meeting called by Mr Sumer Singh Gurjar after he took over as the SDM here today. Representatives of various sections of society criticised the functioning of the local municipal council.


XEN, clerk die in road mishap
Gurdaspur, August 24
Gurmeet Singh Bedi, Executive Engineer, Drainage Department and Madan Lal, Subdivisional clerk of the department died on the spot when the Tata Sumo in which they were travelling collided with a truck near Jappowal Dhariwal, 5 km from here, today at 2.30 p.m
JE crushed to death
Abohar, August 24
Atma Ram, who was recently promoted as junior engineer by the PSEB was allegedly crushed to death by a military vehicle near an ice factory late last evening.
450 gm of heroin seized, 1 held
Ferozepore, August 24
The police has seized 450 grams of heroin worth about Rs 45 lakh and arrested one person in this connection.


UTF criticises PUTA faction
Patiala, August 24
The United Teachers Federation has refrained from being a party to the ongoing slanging match between a faction of the Punjabi University Teachers Association and the university leadership.
'Pvt agencies can't monitor academic standards'
Patiala, August 24
Mr Hari Gautam, Chairman, University Grants Commission, in a letter to leaders of the Punjabi University Teachers Association claimed that private establishments being declared as university study centres were responsible for the enrolment of students, teachers and conduct of examinations.
School board extends date
SAS Nagar, August 24
The Punjab School Education Board authorities today extended the last date for depositing the fee for the special chance given to the candidates who had failed to clear their compartments.
Meeting of college Principals put off
Amritsar, August 24
The Punjab Government has postponed the meeting of Principals of colleges affiliated to Guru Nanak Dev University scheduled to be held on August 28 on the university campus here due to some administrative reasons.
AISSF men clash with students
Amritsar, August 24
On the issue of electing new president activists of the All India Sikh Student Federation, Mehta Chawla group, clashed with students of Khalsa College on college campus today.
Punjab Lotteries may yield Rs 55 cr profit
Chandigarh, August 24
The Punjab state lotteries were expected to yield a profit of Rs 55 crore in the current year. This was stated here today by Finance Minister, Capt Kanwaljit Singh, at a prize distribution function of the Department of Lotteries, in respect of Punjab State Baisakhi Bumper, 2001 draw for which was held on April 13, 2001 at Ludhiana.
Auction of 21 shops fetches Rs 2.58 cr
Amritsar, August 24
Auction of 21 shops in the Nehru Shopping Complex on the main Lawrence Road today fetched more than Rs 2.58 crore.