Film-maker Asit Sen dead
Kolkata, August 25
Asit Sen, maker of classic Bollywood tragedies "Mamta" and "Safar", died at a hospital here early today. He was 79. He was suffering from piles and was admitted to Advanced Medical Research Institute on August 20. He died of profused bleeding.


Joshi, Madhuri get Citizen's award
New Delhi, August 25
The United Nations Human Rights' Committee Chairman Justice P.N. Bhagwati today presented the National Citizen's Award to eminent figures, including Human Resource Development Minister Murli Manohar Joshi, and Bollywood stars Madhuri Dixit and Hrithik Roshan.
Cine stars Madhuri Dixit and Hritik Roshan at a National Citizen's Award function in New Delhi on Saturday.
— PTI photo
Gehlot protests to Badal on river waters issue
Jaipur, August 25
Rajasthan Chief Minister Ashok Gehlot has protested to his Punjab counterpart Parkash Singh Badal over the latter's reported statement that the state would not part with any water from three rivers.
BJP: no ticket to tainted persons
New Delhi, August 25
The BJP today said it will soon evolve norms for denying the party ticket to persons having a criminal record.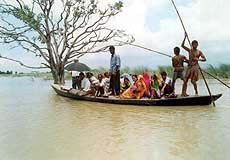 Flood victims of Gopalganj moving to safer place by a boat on Saturday. — PTI


Cong to review issue of Uttaranchal capital
New Delhi, August 25
Uttaranchal Congress Chief Harish Rawat has said that if the Congress was voted to power in the newly-created state in the forthcoming election the party would re-examine the issue of its capital.