Father's pictures
Bimal Roy's daughter, Basu Bhattacharya's wife and Aditya Bhattacharya's mother...her life seems more 'reel' than real, and her identity more borrowed than earned. But Rinki Bhattacharya today is crafting a different script for herself..she is planning a serial to showcase her father as one of India's greatest film-makers.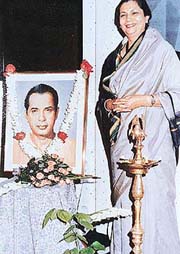 Rinki Bhattacharya: Father, dear father
The prime materials for her script today are her memories. As chairperson of the Bimal Roy Memorial Committee, she is spearheading a movement to keep alive her father's memory through his music and films. She is capturing for posterity some slices of his life.
Born in Kolkata, Rinki moved to Mumbai when her father Bimal Roy came to try his luck in Hindi films. He went on to become one of India's legendary film-makers. He made epics like Do Beegha Zameen, Devdas, Sujata, Bandini and Madhumati.
Rinki has authored splendid books like Bimal Roy-The Man of Silence (Harper Collins) and Bringing Him Into Focus (Indelible Imprints, Stree) and a book on Bengali cuisine. But it's the serial on her father that is taking up most of her time. "I want to pack in everything in the script. He was no ordinary man." Indeed he wasn't. After all, how many film-makers can create history by bagging nine Filmfare awards in one night as Madumati did?
Adding laugh lines
It's a silver jubilee every star looks forward to. This year, Rakesh Bedi celebrates 25 years of life as a comedian. Starting off in small roles he struck gold in 1981 simultaneously on the big and small screen...with Chashm-e Baddoor and a little later in a pivotal role in Yeh Jo Hai Zindagi, which must hold the record of being the best comedy on television.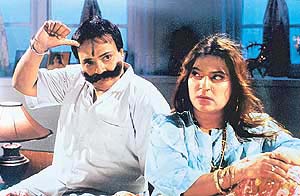 Bedi with Archana Puran Singh in Hum Sub Ek Hain: Smile awhile
Today, over 200 films, 40 serials and countless live performances later, Bedi still remains high in demand as a comedian whose histrionics may not guarantee a hit but definitely guarantee guffaws.
Whether playing a Nepali bahadur or a bumbling crook or even a ditched lover, Bedi says he does a lot of homework for each of his roles. Which is why producers still pursue him for gentle comedy roles as he has the knack of making people laugh without indulging in silly mannerisms.
Says Bedi, "For 25 long years, I have cultivated the image of a comedian and it has been a very satisfying experience. With so many soaps on television, people tend to forget even the central character, but a comedian is usually remembered."
And remembered he is for his roles in serial like Maal Hai To Taal Hai, Hum Sab Ek Hain, Shriman Shrimati and many more.
Super series
More than 60 years after he landed on planet Earth, Superman has not lost his appeal. He can still get the pulse racing and adrenaline rushing.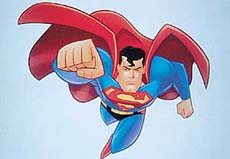 Superman in action on Cartoon Network
Now the man of steel is all set to fly into Cartoon Network's Power Zone and lift it to new heights. He makes his debut with Superman: The Animated Series every Friday at 4 pm. Set in the present day metropolis against a backdrop of bright urban landscape, the ultimate super hero combats sinister villains and rescues innocent victims in new and exciting action adventures.
As the only survivor from planet Krypton, the infant Kal-El was sent to Earth by his parents moments before the planet's destruction. Discovered by the Kent family, the baby was renamed Clark and raised as a normal boy. During childhood, Clark realised that the Earth's yellow sun gave him amazing super powers.
Clark is a crime reporter for the Daily Planet newspaper. As Superman, he fights for truth and is in constant battles with Lex Luthor, the maniacal criminal mastermind who will do whatever it takes to bring Superman's downfall. Superman may seem invincible but his powers do have limitations. If exposed to a piece of radioactive kryptonite, he can die.
So get set to join the timeless hero in his quest for truth and justice in the power zone!
Love all on ESPN
Last year, at the US Open, Russian Marat Satin showed he cared little for reputations. On the opposite side of the Flushing Meadow net, in the final of the US Open, stood Pete Sampras. Safin crushed the former world number one in the final to win his first Grand Slam title.
This year, too, tennis fans can expect a lot of blood to flow as big champions come crashing down at the US Open being aired live on ESPN at 4 pm from August 27 to 31.
Like most years, Sampras is likely to make Wimbledon his priority. Agassi showed by winning the Australian Open earlier this year that he still has unfinished business as far as Grand Slam tournaments are concerned. But he had better do something quickly before the chasing pack of Marat Safin, Gustavo Kuerten, Juan Carlos Ferrero and Lleyton Hewitt close in.
Women's tennis is already full swing into a new generation of youngsters. It is these palyers that should catch the eye during the 2001 US Open. Last year's champion Venus Williams and her final opponent Lindsay Davenport will again dominate. But there will be Serena Williams, Martina Hingis, Monica Sales, the resurgent Jennifer Capriati and the vivacious Anna Kournikova.
If 2000 was the year of Venus Williams, 2001 is certainly shaping up as Capriati's. The former child prodigy took the first two Grand Slam tournaments of the year, the Australian Open and the French Open. But then one can never say. The enormously talented Kournikova could prove to her fans that her game is as stunning as her looks!
Pigs have brains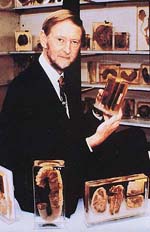 No pigheads, these!
Here's a new season of the award-winning science-based series spanning everything from eccentric professors to controversial tests and human-interest stories.
QED explores US scientist Professor Stanly Curti's work in training two young pigs to operate computers, which could prove that after humans, pigs are the most intelligent animals on the planet.
Stanely believes that pigs learn faster than chimps. As proof he teaches Hamlet and Omelette to play computer games. "Things that we used to think were totally human." He has taught them to respond to verbal commands and play a form of hide-and-seek.
Noted humour writer P.G. Wodehouse thought that pigs had wings. But Stanley believes they have minds of their own that keep ticking away. He hopes ultimately to be able to communicate with them using squeals, oinks and grunts!
— Mukesh Khosla