Monday, August 27, 2001, Chandigarh, India



B U S I N E S S
Y O U R M O N E Y
A GUIDE TO PERSONAL FINANCE
Think before purchasing your dream house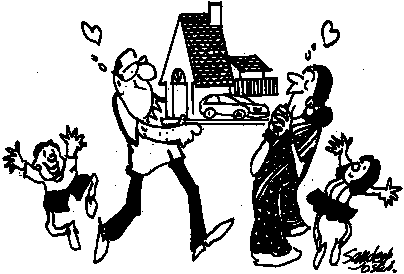 To own a house is the dream of every common man. Some members of our Society have a sentimental values towards possessing one's own house, specially as a shelter for old age and for some others investment in real estate is a business propositions are encased upon by the builders and property developers.
How to plan retirement
Can one build one's own pension plan by exercising investment choices that ensure not only good return, but lesser risks? It is also important that the return is relatively assured despite falling interest rates all around. Is this possible? Perhaps!
PNB sops for rice millers
Jalalabad, August 26
Mr P.N. Khurana, General Manager, Punjab National Bank, Punjab Zone announced some special concession for rice shellers. The concession includes 50 per cent rebate on draft commission, 75 per cent rebate on TPO charges were completely waved.
'Only business can improve Indo-Pak ties'
August 26, 2001
'Indo-Pak trade ties hinge on Kashmir'
August 25, 2001
'Ruling on Basmati a victory for India'
August 24, 2001
Bharti sees revenues, demand booming
August 23, 2001
Bill on FCI borrowing approved
August 22, 2001
MPs' support can check slowdown: Shourie
August 21, 2001
Is there future without 'futures'?
August 20, 2001
Sinha promises sops for IT hardware
August 19, 2001
Zee, Sony in pact for telecast in Australia
August 18, 2001
No isolation for India at WTO talks: Maran
August 17, 2001