Sunday, September 2, 2001
Bridge
Contributing the wrong card
by Omar Sharif
THERE have been countless examples over the years of players contributing the wrong card to a trick by mistake.
It happens to us all, usually leading to total disaster. But every once in a while, the error proves to be a spectacular winning play.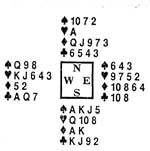 South opened Two No-trumps at game all and North raised to game. West led the four of Hearts against Three No-trumps and dummy won with the Ace.
On any other lead there would have been an easy run to at least nine tricks, but the lead took away the entry to dummy before the Diamonds could be unblocked.
In the hope of creating a new entry (the ten of Spades) declarer led a low Space from the table at trick 2 and finessed the Jack.
West started thinking — what should he lead after winning with the Queen of Spades?
On the bidding his partner was marked with practically nothing in the way of high cards and West made his decision. He would exit peacefully with the nine of Spades.
Something went wrong — planning a trick ahead, West suddenly realised that he had allowed South's Jack of Spades to win, having followed with the nine!
I expect you can see what happened — cut off from dummy's winning Diamonds, declarer had only seven top tricks. One more came in but the contract failed.
Everybody congratulated West on his shrewd defence — losing one trick but gaining at lease two — and his prestige in the club rose considerably.
Only West — and now my readers — know the truth.