Rising star

From playing second fiddle to Mandira Bedi, in the hugely popular serial Shanti, to doing a cameo in Kamal Haasan's Hey Ram, life has come a full circle for Irawati Harshe. But her ambition doesn't end there. "I am going to take my film career seriously," says the lady who plans to both act and direct.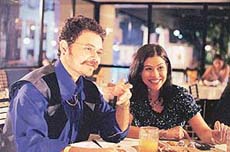 Irawati Harshe (right) in Bazaar: Aiming high

After six serials and one film, she is high on the wish list of TV producers. An accomplished Bharat Natyam dancer, she is comfortable both on the small and big screens. "It's the role that matters, not the medium," she says.
With an attitude like that, it's not surprising she's managed to land some interesting roles on television. Apart from Shanti she has acted in Mrityudand, Chhota Mooh Badi Baat, Waris and more.
But it is her current serial, Bazaar ,Tuesdays 9 pm on Doordarshan, which is bringing in the kudos. It profiles the art world where exploitations, petty jealousies and traumas are a way of life and how she, as a painter, copes with the greed and murky dealings.
Though there are many more serials in the pipeline, including Kashti for Zee and Indradhanush for Doordarshan, Harshe says she may not have too much time for TV in the near future. With a slew of big screen offers, she plans to plunge headlong into Bollywood and also pursue her long-time desire to direct a film. So stay tuned. You are going to see a lot of this gifted star in the future.
Women's issue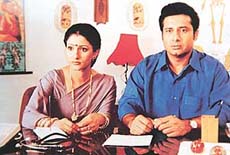 Scene from Itni Si Khwaish: Women's issues

Back in the forties, when someone told Sir Winston Churchill that by the turn of the century women would be ruling the world, he shot back, "What? Even then?" We are into the new millennium and women are holding up half the sky, yet TV serial makers continue to live in the past.
Itni Si Khwaish every Monday at 8.30 pm on UTN is proof of that. The serial revolves around a happy couple, whose marriage is put to test by circumstances.
And when that happens, a number of uncomfortable questions are raised. The primary one being — to what extent should a woman sacrifice in times of adversity. Should there be a Laxmanrekha which she should not cross? Or when should a woman refuse to compromise and say thus far and no further?
The serial is all about choices that women have to make between human values and the face one has to project to society. This is what makes Itni Si Khwaish an absorbing serial despite its somewhat archaic views on poor production values. If you forget those, the serial is still worth a watch.
Food for thought
Mealtime has never been so much fun for middle class India. When Sanjeev Kapoor started hosting Khana Khazana on Zee, little did he imagine he was opening the floodgates for a slew of cookery shows.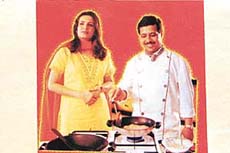 UTN's Hardil Lazeez: Varied cuisines

In today's world of nuclear families and double incomes, cuisine is receiving more attention from television that even the beauty contests. Foodies have now become star attractions on all channels. Even regional networks have special cuisine shows that attract lucrative sponsorships.
Hardil Lazeez every Friday on UTN TV at 2 pm offers a spicy, sweet and sour cuisine show, "rich and varied as the people of India," as the blurb goes. The show is a mouth-watering display of traditional Indian Mughlai dishes. More than just the recipes, the show explains the basic skills and techniques of cooking and offers precious advice on the preparation of these dishes.
It caters to diverse cuisines and recipes, many requested for by the viewers themselves. The show offers recipes for seasonal dishes, traditional favourites, and targets a wide audience range, with easily affordable and procurable ingredients.
So, even if UTN is not a must-see channel, cable operators are busy telling women to watch Hardil Lazeez, which must rank among the best cookery shows on TV.
Return to divinity
The divine forces are coming back on television. In fact, viewers never seem to tire of seeing the same religious epics over and over again.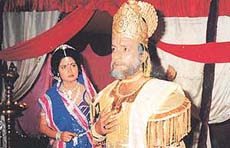 Mahabharata: Old faithful on Zee now

After having being aired on a host of channels for the last decade and a half, it is now the turn of Zee TV to cash in on the popularity of Mahabharata and Ramayana.
But this time they are back in a new avatar. Or so Zee sources would have us believe. The truth is that though these are the same old serials, they are coming in a new packaging, which, according to a spokesperson of the channel, "have been designed keeping in mind the contemporary tastes of the viewers."
Zee hopes to rake in the moolah. And one can't fault the channel for being commercially inclined.
With TRP ratings of a number of their leading shows dipping dramatically, in wake of steady onslaught from Star Plus and Sony, they badly need some divine blessings to move up the popularity charts.
Climb every mountain
This September, Discovery Channel follows some of the world's best mountain climbers, extreme skiers and snowboarders as they face nature's toughest challenges.
The North Face Expeditions, starting Saturdays from September 8 to 22 at 9 pm, the three-part series captures the heart-pounding excitement of daring exploits as viewers witness a record-breaking attempt to climb Mount Everest.
The attempts include an 8,000-metre bone-crushing skiing expedition in the Himalayas. Three extreme skiers attempt to ski down a 7,000-metre Himalayan peak.
Starting from a village near Manali, they trek up the remote mountains where they set up camp and begin their adventure that will take them to Nepal and then into Tibet.
Featuring breathtaking footage, the programme profiles the awesome beauty of the region as well as the fearless spirit of these death-defying adventurers.
— Mukesh Khosla