For filling:
Mango jam 2 tbsp
Dessicated coconut 1 tbsp
Method: Sift flour in a bowl. Mix almonds and sugar and rub in butter. Add enough water to make ingredients cling together. Turn to a lightly floured surface and knead till smooth. Refrigerate for 30 minutes.
Take two sheets of grease-proof paper and roll dough between these till 4 mm thick. Using a round cutter cut equal number of 4 cm and 5 cm rounds. Mix ingredients of filling and keep aside. Put some filling on the smaller round of dough and cover with the bigger one and press the edges together.
Place biscuits about 2 cm apart on oven tray and bake at 200°C for 20 minutes. Cool and dust with icing sugar.
Cornflake surprise
Self-raising flour 1 cup
Cornflakes (lightly
crushed) 2 cups
Castor sugar ½cup
Egg 1
Coconut ½ cup
Raisins ½ cup
Butter 125 gm
Vanilla Essence 1 tsp
Method: Put butter and sugar in a bowl and beat with a hand mixer. Slowly add the egg while beating the mixture. Add vanilla essence and beat till light and fluffy. Stir in coconut, raisins and sifted flour. Roll 2 tsp of mixture into a ball and roll in cornflakes. Place in a greased baking tray. Keep a distance of about 4 cm between each crispy. Bake in a pre-heated oven at 200°C for 15 minutes. Cool on trays and store.
Pinwheel biscuits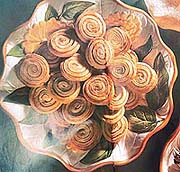 Ingredients:
Butter 60 gm
Castor sugar 1/3 cup
Egg 1
Self-raising flour 1 cup
Plain flour 1 cup
Mashed banana ¼ cup
Vanilla essence ½ tsp
For caramel:
Butter 40 cm
Sugar ¼ cup
Method: Beat butter, sugar and essence till light and fluffy. Add egg slowly and beat well. Stir in sifted flours and mashed banana. Make a firm dough. Cover and refrigerate for 30 minutes. For making caramel, heat butter in a pan and add sugar. Keep stirring till sugar becomes golden.
Roll half of the dough between butter paper sheets into a 20 cm x 30 cm rectangle. Spread half of the caramel on it and roll firmly from a long side. Repeat with remaining dough and refrigerate the rolls for 30 minutes after wrapping in foil. Cut the rolls into 5 mm slices and bake at 200ºC for 15 minutes.
Choconutties
Ingredients:
Self-raising flour 1 ¼ cup
Butter 125 gm
Egg 1
Castor sugar ½ cup
Cocoa powder 2 tbsp
Unsalted roasted peanut 1 3/4 cup
Method: Beat butter, sugar and egg till smooth and add sifted flour and cocoa. Coarsely grind roasted peanuts. Add ¾ cup in the flour mixture.
Roll 2 level teaspoons of mixture into a ball. Roll in extra nuts. Place on greased tray and flatten slightly. Keep a distance of 5 cm between biscuits. Bake at 180ºC for 15 minutes or till firm.
Tips
Do not overbeat batter as it leads to soft and crumbly biscuits.

Use flat aluminium trays for baking.

Do not over-grease the baking trays as this may cause excessive browning underneath.

Keep at least 2 cm space between biscuits while baking to allow air to circulate.

Cool these completely before storing as moisture will make biscuits soft.