We then viewed the Hooghly while driving over the famous Vidyasagar Setu — a bridge connecting the twin cities of Calcutta and Howrah. With no pylons in water, the bridge crosses the river with a single 450-metre span — it is the largest cable-stayed bridge in Asia and a tribute to modern architecture. The bridge is similar in its dimensions to the Sydney Harbour but carries traffic many times over.
Our taxi moved at a moderate speed and more than once was I caught so immersed in taking in every possible detail of the city that I lost track of the conversation. My brother-in-law was talking of the public transport in the city. It's hard to imagine the city without its ambassador taxis. Black and yellow plump beauties take on the roads like a zillion bees. Given the deplorable condition of public buses and a limited connectivity by the metro, the taxi does prove to be the one-word solution to all commuting blues.
The famous, and often labelled notorious, Calcutta monsoon proved gentle on us. It kept the nocturnal hour and left the day shiny, green and squeaky clean for us. Rain was inordinately lashing but silent in Calcutta — it came and went as if on a tiptoe. Science City was the first on our itinerary. Built in verdure environs, the place attracts not only science buffs but anybody with curiosity. The main hall exhibits most of the basic scientific concepts. From planetary movement to the properties of matter, the exhibits are self-demonstrative and accompanied by a written description. It is a wonderful place to de-mystify most of the difficult concepts we read about in school.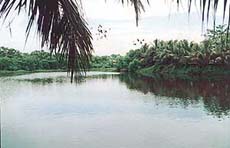 The Science City is located in lush green environs

There is also a popular space theatre run inside the shows of which are very popular with young Bengali children. Science City ought to be visited by everybody visiting Calcutta. At a distance of a few kilometres from there we reached what is called Swabhumi. It is a huge crafts village that houses Bengali craftspeople manufacturing, displaying and selling their craft. There is a thriving handloom industry in Bengal and locally manufactured taant, baluchari and embroidered (kantha) sarees are popular products. Recent reforms in craft design and marketing have also revived traditional Bengali terracotta and leather industry. Apart from the traditional products like Bankur horses from Krishannagar and colourful leather handbags (which owe their earliest designs to artisans at Shantiniketan), these craftspeople are diversifying and experimenting for survival and profits. Sholapitha is a craft unique to Bengal and involves making figurines of deities, mythological characters and also toys from shola, a plant which gives this light spongy material. The famous cut-work and embroidered linen has a huge market and a visit is never complete without buying some of this Bengali craft.Besides the craft village, another place to buy it is the centrally-situated New Market area. The architecture of Swabhumi combines the elements of colonial and ethnic, a symbol of the amalgamation that is characteristic of the Bengali spirit.
Calcutta has a great food culture and Bengali sweet tooth is almost legendary. There is a quiet sweet shop at almost every corner and trying out a few of the dozen available varieties of sandesh and the cottage cheese-based sweets like rossagulla and chanar payesh can be a delightful experience. As compared to oil-laden, sugar-saturated, dipped-in-syrup Punjabi sweets, the Bengali sweets are delicately flavoured and light on the stomach. Bengalis buy sweets by the number and so when a happy-looking family moved in and pointing to a particular sweet instructed "1 kg please" the shopkeeper knew that he had Punjabi guests.
Victoria Memorial was next on our list of 'must-see'buildings. Built between 1906-1921 and combining the architecture of Taj Mahal at Agra and St. Paul's Cathedral at London, it was dedicated to Queen Victoria by Lord Curzon who decided to pledge a memorial to the departed "Empress of India". The building is steeped in India's colonial experience and acts as a sort of chronicle for the city. Right from documenting the first flashes of colonial activity in the 18th century, it has a large section devoted to the rise of cultural renaissance and nationalism in India with special emphasis on Bengali reformers and freedom-fighters. It houses an impressive collection of manuscripts, paintings and historical records in its museum and art gallery. My nephew in the decorum of the central hall where a pin could be heard dropped cheekily called out to Queen Victoria in the shrillest possible voice — leaving some of the visitors stupefied and others amused. Coming out to the lawns of the great building, one is encountered by some undocumented repercussions of the colonial experiences — scores of beggars on its very grounds jolt one rudely back to present.
Calcutta is an enchanting city. The people seem to be related to each other in a powerful way and the city has a strong influence on their collective spirits. The place is informal and relaxed and like its garrulous citizens, even the city seems to want to tell a tale. There is a bustling confusion in the marketplaces where peddlers sell anything from shower curtains to potted cactii.
An indiscreet bookshop looks out from where you least expect it. A granny in her white taant sari asks for the day's edition of The Telegraph while constantly admonishing her rotund little grandson who tugs at her from behind for a treat of sandesh.
It's a city representing mixed feelings of a million hearts but nevertheless rising to become the 'City of Joy' much like the overhead wires of the tram crisscrossing and striking against each other by the approaching tram but then straightening out as it moves ahead.