Sunday, September 2, 2001
Article
Who cares about prints of paintings?
Kunal Khurana
FOUR years ago, India's best known painter M.F. Husain came up with a series of limited edition prints on Madhuri Dixit, the heroine of the film he was then making, Gajagamini. The prints were put up for sale amidst much hype and hoopla. Sadly, there were hardly any takers.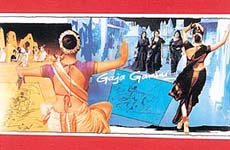 M.F. Husain's prints
But then, Husain is not the only artist in India whose prints have lost their market value. A number of well known 'signatures' like V.S. Gaitonde, Ghulam Mohammed Sheikh and Manu Parekh have virtually stopped making prints of their paintings. And with this a number of print makers are closing shop.
That is however, a part of the problem. Unlike the West, where the print making tradition boasts of such votaries as Albrecht Durer, Honore Daumier and Pablo Picasso, in India the art is indistinguishable from reproductions made for the publications. With computers, its novelty has become all the more diluted.
Traditionally, prints are restricted in number by editions bearing a common title. Most editions are not very large — typically between 30 and 100 prints, though editions of 1,000 are theoretically possible, as also tiny ones of 10 or less.