Swinging in style
Despite the monsoon downpour, filmland functions and parties show no sign of retreating to a drizzle. Yet, the most incredible part of it all is that there's hardly anything stopping the stars from putting in an "ah" appearance — may be a trifle wet or 3 hours behind schedule !
Precisely what happened at the Super Cassettes/Times Card evening bash for Nayak, that turned into a late night/early next morning snowball ! At about 11.45 pm, when, either a lot of invitees had left or the remaining crowd was (desperately) hunting for dinner napkins, who should troop in but lead pair Anil Kapoor and Rani Mukherjee just before the stroke of midnight ?
And not the usual sitting down for small talk — both cine celebs were (quite 'spiritedly') immediately dancing away to kingdom come ... going so far as to do the bump 'n' grind with some of the 'high' guests ! Of course, we all know how funky a dancer Anil is (eeks!) but it was sheer delight to see Rani moving oh-so-sensually and clearing the dance floor .... Oye Balle !
One, two, three
And so, Bollywood continues to run the rut. Amazing, isn't it, how different film-makers hit upon the same theme/personality to make their new movies on ? I do think the whole whammy is (much) more than mere coincidence. And I'm sure you readers will nod in consent ....
When Kargil happened, suddenly, a heap of producers 'n' directors were up 'in arms' (pun definitely intended!) about making movies on it... on a 'war' footing, so to say. I recall at least a dozen or more films announced, at least. So, where are they ? Publicity over, production over !
Ahem, and now it's (strangely) the turn of our film-makers rewinding to the period-patriotic persona of Shaheed Bhagat Singh, hey ! At last count, there were no less than nine projects lined up to hit the studios ... but now, only three of them are in whatever stage of actual shooting. The charged-up makers include Manoj Kumar, Sunny Deol and Rajkumar Santoshi. (Hindi pictures rearing their patriotic head, huh ?)
Namrata's giggles !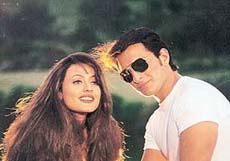 Namrata enjoying a big laugh at (sulking) Saif's expense!

This happens to be an anti-Saif Ali Khan snippet — kind (?) courtesy, Namrata Shirodkar. The sexy model-actress just can't stop niggling 'n' giggling over "dear friend" Saif's "scarecrow haircut" after having been with him (on and off the cine screen) since a long, long time. She's into frightful fits, trust me !
"I can't accept it — I simply can'ttake it!," she guffaws uncontrollably. "I have always been great friends with Saifu... and loved to rustle up his cute, long curly hair. But it's all gone now, so sad. And it makes him look such a bachchaa ! Christ, he'll have to wear a wig if he wants to do another flick with me, honest !"