Sunday, September 2, 2001
Sunday Activity
Get to the heart & sole of your shoes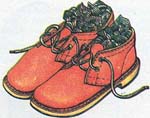 Put crumpled paper in wet shoes

YOU may not have a shoe collection as large and fabulous as Imelda Marcos, but you can care for and maintain your humble collection in a way as to make it look as good as new , making it the envy of others.
Even the best brands of shoes—be it Nike, Reeboks and what have you— can soon begin to look like a ragpicker's bedraggled pair if they're not kept clean and shining. So, if you don't want to lose heart at the sight of unkept soles, shoo away all those unsightly scratches or stains from your shoes. Here are a few do's and don'ts for your collection: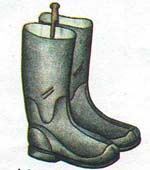 Use a clothes clip to hold boots

Let shoes air for a few hours before putting them away after use.

To preserve their shape, store them in shoe storage boxes or shoe bags and don't keep them loose on the cabinet floor.

Check shoes regularly for wear and tear. Have worn out heel lifts replaced before the heels themselves are damaged.

To lenghthen the life of soles and heels have small hard-rubber taps attached to them.

To avoid damaging the backs , use a shoehorn when you put on shoes.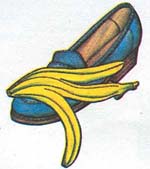 Banana peel can lend shine

After each wear, wipe the shoes clean with a cloth or brush.

Brush suede shoes with a fine-bristled wire brush made for the purpose.

When shoes get soaked, stuff them loosely with crumpled newspapers and let them dry away from heat.

To remove the white stains left by road salt, wipe off loose dirt and mud with a damp cloth.Then dab the stained areas with a mixture of equal parts of water and vinegar. let them dry and then polish.