That Bollywood seems to be ripe for a change is evident even from the releases of this year. The feel-good family drama and the candyfloss romance formulas are appearing hackneyed. The year 2000 saw only two formula films clicking— Kaho na Pyar Hai and Mohabbatein. The audience endorsement of films like Hera Pheri and Kya Kehna and critical appreciation of films like Astitva and Fiza have paved the way for films with taut scripts, strong storylines, well-etched characters and the ability to communicate basic realities to the audience.
This new genre of film-making could be called 'fusion cinema' because, keeping the ground realities in view, the directors opt for slick editing and high production values as well as the use of state- of-the-art technologies. In addition, savvy marketing is as essential for the success of these films as it is to that of the formula films, communication with the audience being paramount.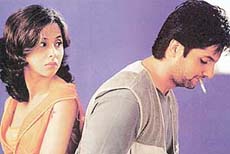 Contrasted with the parallel cinema of the 70s, when films like Damul, Paar, Chakra, to name a few, took realism to it's threadbare and poverty-stricken extremes, today's fusion cinema is focused on the box-office. Big money is being spent on production and these aren't the spartan, dark productions of yore, but are mainstream films, complete with song-and-dance sequences and aggressive marketing strategies. Also, they're looking at a completely new scope, which might be successful in replacing the mammoth mega productions of Bollywood. The path-breaker for this trend is Ram Gopal Verma's Satya, which made the new-age filmmakers feel that if that movie, with it's completely objective treatment of the underworld and little-known stars, could make it so big at the box office, then why not theirs?
A major reason for the acceptance of these films by the audience is because the stars, Bollywood's demi-gods, also seem open to experimentation. Apart from the stars who performed in this year's productions, even actors like Salman Khan, notorious for his indiscipline, are serious about E.Niwas' Ateet, a hard-hitting thriller, and evidently is even contributing to the storyline and characterisation. Most actors and actresses today, are looking for cinema that is different and which will allow them to showcase their talent. Coming up then are Rakht, a thriller about a father searching for his lost son, starring Anil Kapoor, Rani Mukherji and Monisha Koirala, made by Sudhir Mishra, (Is Raat Ki Subah Nahin), R.Mohan's Chandni Bar, which takes a hard look at the life of a Mumbai bar girl played by Tabu and Shankar's Nayak, in which Anil Kapoor plays a journalist who becomes Chief Minister for a day. So the stars are looking at filmmakers to take them along more adventurous paths.
The year 2001 has been an exciting one in the life of Hindi cinema. A large number of movies have made a clean break from films that seemed to be targeted only at NRIs. Candyfloss movies like Kuch Kuch Hota Hai, with it's Archie comics look, or Mohabbatein, which didn't touch reality with a barge pole, were films about the choices of young people. The answer to these two films came this year with Farhan Akhtar's Dil Chahta Hai (DCH), which, says Aamir Khan: " Is a movie about young people, made by young people and directed towards young people." The hip haircuts, the soul patch, and the jazzy wardrobe, have all added up to the youthful look of the film, which is all about friendship and bonding, not, thankfully, in the yeh dosti hum nahin todenge mould. The film follows a year in the lives of three friends who've just passed out of college and the changes that one year of growing up brings. Although the class Akthar portrays is the class of the Luckies — savvy, cool, irreverent, rich kids—nowhere does the authenticity suffer as he easily captures the varied attitudes of the three buddies. Reminiscent of Grease and Saturday Night Fever of the 80s, DCH doesn't let go of realism. Snappy dialogues and a nouveau script add up to a delightful experience of cine watching.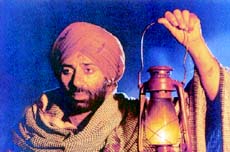 Today's filmmaker also dares to examine that age-old movie seller, love, from different perspectives. While, of late, love has been treated as a single-dimensional emotion— pure, asexual, virtuous, films this year, have refused to accept this myopic version. Shyam Benegal fired the first shot this year with Zubeida, a period romance set in 1950, starring Karisma Kapoor, Manoj Bajpai and Rekha. The movie is the story of a young girl from an affluent family, who, succumbing to parental pressure, gets married, has a baby and is divorced. She then meets and falls in love with a romantic Rajasthani prince, and is whisked away to Rajasthan, to deal with completely alien surroundings and an already well-entrenched wife. None of the characters is perfect— they're all human beings, noble, mean, strong, vulnerable, tough and weak at various times. Thus in exploring love, Zubeida reveals a lot about human nature.
A diametrically different love story was Vikram Bhatt's Kasoor, which examined the role of lust in the dynamics of love. Kasoor traces the relationship between a newspaper tycoon (Aftab Shivdasani), who is accused of having murdered his wife, and the lawyer ( Lisa Ray ), who defends him. In this film, the sexual chemistry between the two protagonists is evident from their first meeting and indeed, love starts after the couple have become intimate. The combination of smouldering sexuality and the excitement of the murder mystery make for a potent brew.
Yet Ram Gopal Verma in Pyar Tune Kya Kiya explored another dimension of love. Verma, who declared that he had "not seen a good film on relationships since Arth", fell back on the story of Fatal Attraction for his production. In the film, Urmila plays an obsessive lover who falls desperately in love with Fardeen Khan, a happily-married fashion photographer. What is just a flirtation for Khan turns out to be deadly serious, as the smitten Urmila is convinced that his wife is the reason for Khan's holding back. Love, here is not a frothy, wish-fulfilment romance. It takes the form of a desperate, hopeless longing for reciprocation, which will allow no obstacle to stand in its way, a love that borders on insanity. PTKK leaves the audience with the feeling that love could be uncomfortable and even end in tragedy.
Dil Chahta Hai looks at love from the viewpoint of three different young men. Sameer (Saif), the funny, charming guy who falls genuinely in love every few months, nurses a heartbreak, and promptly falls in love again, Akash (Aamir), who believes in the ' love them and leave them' policy, and Siddarth, (Akshaye Khanna), who falls in love with an older woman (Dimple), a divorcee with a child, and who is an alcoholic to boot. Three unconventional, but believable attitudes towards love which justify Benegal's statement, "Today's teenagers are not discovering life with the same innocence as before. These films are not catering to an area that has been lost".
2001 has also seen two big budget movies taking the Indian as well as NRI audiences by storm. Both Gadar and Lagaan, the most-talked-about films in recent times, were released in June and are still running to packed houses. Both deal with nationalism and patriotism, but their treatment and time-frame couldn't be more different. Lagaan, Aamir Khan's magnum opus, which deals with the fortunes of a tiny drought-ridden village, Champaner, is set in 1893. Ostensibly, based on a cricket match between the poor villagers and their British rulers, the film is about the triumph of the human spirit. For the first time, a film has been attempted that brings together the two great national passions— cricket and patriotism.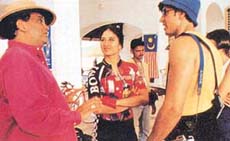 Champaner village is no designer village that one is wont to see in films today. Nor is there any inherent heroism in the characters to begin with, weighed down as they are by poverty, the climate and the crippling Lagaan. Yet, with all the elements of a tear-jerker in place, Khan avoids melodrama and infuses many hilarious moments in the film. Indeed, Khan and his director, Gowrikar, manage what has never been accomplished so far. They transform the cinema hall into a cricket stadium and the cinema audience into a willing cricket audience as they cheer the fortunes of the home team of the remote past.
Gadar is based on the Partition era love tragedy of a Sikh ( Sunny Deol) and a Muslim (Amisha Patel). It tells the story of a poor truck driver marrying an aristocratic girl, against the backdrop of the Partition. Post-interval, Deol enters Pakistan to rescue his wife from the evil clutches of her father. However, although the tone of the film is undoubtedly jingoistic and provocative, especially when contrasted with M.S.Sathyu's sensitively handled Garam Hawa, Anil Sharma, the director of the film says, " I'm not a documentary filmmaker. I make mainstream cinema, but Gadar is about love transcending religion and borders."
Rakesh Mehra was at a loss to categorise his film Aks, starring Amitabh Bachchan, Manoj Bajpai and Nandita Das. " It's a converging of many schools…. I honestly don't know what genre it is", says Mehra. Aks is a thriller that challenges the standard Hindi films formula of good always triumphing over evil. In fact, it reiterates the fact that both forces are equally powerful, in combat but co-existing. With Bachchan representing the forces of good and Bajpai, evil, the film packs powerful performances, has an international look and a spot of supernatural thrown in to make exciting, though futuristic cinema.
The forthcoming films also lead one to hope for fare other than formula pulp that audiences are usually served with. The return of the period film seems imminent with Sanjay Leela Bhansali's Devdas (Shah Rukh Khan, Madhuri Dixit, Aishwarya Rai) and Santosh Sivan's Ashoka the Great.
Perhaps the time has come to discard the "mindless" tag usually given to Hindi cinema. Says Munni Kabir in her book, Bollywood, "Hindi cinema has been the subject of reappraisal by film critics and scholars throughout the world have shown keen interest in the conventions of this unique branch of filmmaking".
However, it's too soon to hope that Bollywood will stop churning out its staple masala movies. For one Lagaan released, there have been a hundred Yaadeins. Still, the success of the present crop of 'different' movies shows how bored people are of confused love triangles, never-ending wedding sequences and senseless violence. But, arises the question: Does Bollywood have the potential, creativity, time, intent and risk-taking capacity to bring about a complete change? Besides, when Hollywood can't stop making formula films, how can Bollywood?