Hosting hazards
It's been a long time since Zee pulled the plug on Sawaal Dus Crore and lost the mega-buck race to Star Plus, but the channel's desire for a share of the game show pie remains unsatiated.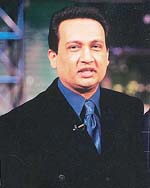 Suman moving to Zee
Despite the fact that the TRPs of Sony's Jeeto Chappar Phaad Ke have dropped to a worrisome 3.1 and Kaun Banega Crorepati too has lost out in the popularity rating, the Zee TV management feels it has a point to prove and is coming up with not one but two game shows.
The first is the twice-a-week Neelamghar hosted by Shekhar Suman and the second is Baazi Kiski anchored by Ashutosh Rana. The channel hopes to attract a great deal of advertising with the shows.
While Baazi Kiski is a replacement for Sawaal Dus Crore Ka, the other show, Neelamghar is a fun and entertainment programme that would randomly pick out participants selected from an invited audience.
But what's taken Zee officials by surprise is Shekhar Suman's terms. The former host of Movers and Shakers say he will initally anchor Neelamghar for six months before committing himself further. After all, the shrewd compere doesn't want a repeat of the Anupam Kher-Zee spat!
Feast of cricket
Win or lose, the passion for cricket in India never diminishes. Which is why stars like Sachin Tendulkar, Saurav Ganguly and Rahul Dravid are legends and worshipped like divinity by millions.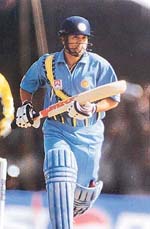 Max Cricket Masters: Scoring a big hit

Max Cricket Masters every Friday 8.30 pm on Sony-Max is a half-hour show that relives the best and the most memorable innings of top Indian cricket heroes. The most spectacular knocks ever played in the history of Indian cricket with backgrounders on the importance of the innings in context of the match . The programme also gives an insight into player status, records and achievements.
Anchored by Ravi Shastri the show provides rare nuggets of information for connoisseurs of cricket.... The fastest innings Ganguly ever played... the longest duration in a Test innings that Dravid didn't hit a boundary... an interview with Sachin when he was 16.
The show also features guest experts who analyse every aspect of the game. Apart from graphs of scoring patterns, there are wonderful insights into the makings of a cricketing icon.
Peppered with interesting anecdotes and an insight into the secret team strategies like a pre-planned sudden onslaught to unsettle a bowler or an all-out bid to psyche a batsman who seems invincible. There are sagas of dropped catches, missed run-outs, disastrous lapses in concentration—every vital detail that makes the game so interesting. This one's truly a huge hit for every cricketing fan!
Revisiting Star Wars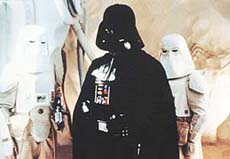 Scene from The Empire Strikes Back: Spaced out series

Through most of the last two decades of the 20th century, the series has enjoyed a cult fan following. Now Star Wars series is set to celebrate its 20th birthday in style—with restored prints, enhanced visual effects and a newly re-mastered sound track.
Star Movies would be airing the space adventures on Fridays at 9.30 pm through most of September. Starting with Star Wars the channel will air epics like The Empire Strikes Back, Return of the Jedi and Star Wars Episode 11- The Phantom Menace.
Three years of hard work by a team of film-makers and restorers has yielded the new and improved look. "I wanted to preserve the films so that they would continue to be a viable piece of entertainment into the 21st century," says creator, George Lucus.
The fantasy world of Star Wars has come to take on a curious feeling of reality. Characters like Luke Skywalker, Princess Leia, the Jedi Master, Han Solo and Darth Vader are now a part of the folklore.
Now is your chance to relive the excitement of the eighties' space action with a host of enhanced effects and special make over.
Nafisa's songs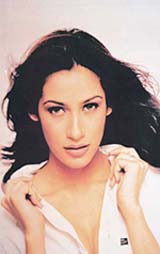 Nafisa: Career moves
When it comes to singing, MTV VJ, Nafisa Joseph is a natural . Back in school her honey-toned baritone easily won her a place in the choir. She also learnt how to play the guitar and the piano. So, it was natural that she make a career in music.
Before that, of course, Nafisa picked up the Miss India crown and also became the first runners-up at the 1997 Ms Universe contest.
But there is more to the stunner than just her veejaying or her beautiful flashing brown eyes or even her dazzling smile that never fails to captivate. The lady has a great passion for reading and is considering a career in journalism. She already has a lucrative offer and is seriously weighing her options.
"I like to take life as it comes," says Nafisa obviously elated by the fact that life so far has been coming like a ride on a roller-coaster to stardom!
Perils of wealth
Travelling twice around the world and visiting 19 countries, Peter Jay the BBC's economics editor leaps into boats, romps with chimpanzees, jumps into hot-air balloons, crawls through archaeological digs and takes his viewers on a fascinating armchair journey through space and time to discover how human beings became wealth-creators.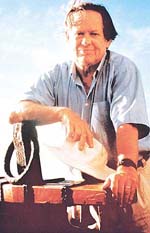 Peter Jay in The Road to Riches: Researching the past

In The Road to Riches every Saturday, 5.40 pm on BBC World, Jay explains people's need for making money and the history of accruing and spending it. He explains its impact on democracies both ancient and modern and on lifestyles and aspirations.
Ten thousand years ago, human beings stopped wandering the plains, jungles, deserts and hills of the earth and settled down. It was a momentous decision because settling down to farming was the beginning of people's desire to own more and earn more.
A new world emerged as railroads were laid and trade opened up between countries. With the generation of wealth, new projects were set up and the modern world began taking shape. Science was harnessed to industry and discoveries and inventions became the order of the day.
Peter Jay revisits the golden age in which no one could imagine that anything could go wrong. But things started going wrong at the beginning of the 20th century.
As nations pressed to industrialise and innovate, they put up barriers to protect their industry. What followed was economic strife and greed. The result was a new form of nationalism that contributed to World War I. The world was never going to be the same place again, concludes this well-researched show.
—Mukesh Khosla