Thursday, September 13, 2001, Chandigarh, India


G L I T Z 'N' G L A M O U R
These days Saif has a reason to smile
Gautam Grover
WITH two major hits in as many months, Saif Ali Khan is on top of the world. For the first time in his career, he has tasted success, now that 'Love Ke Liye Kuch Bhi Karega'and 'Dil Chahta Hai' have run to full houses. Better still, as an actor, he has found his niche — in comedy.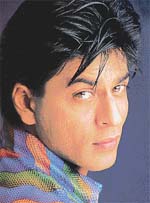 Bollywood brand appeal
Lakshmi Menon
FOR the Rs 800-billion advertising industry in India, Hrithik Roshan, Shahrukh Khan and Salman Khan have emerged as Hindi cinema's prime brand ambassadors, Their combined earnings are, however, nowhere close to the Rs 100 million charged by Amitabh Bachchan for a campaign.
Film on Nepal massacre
Sitesh Debnath
THE ever-ebullient Dev Anand is yet to be done with 'Love in Times Square' and has already announced his next project — a film on the royal carnage in Nepal. He is ready with the script, cast and crew, but has not decided on a title as yet.
---