Thursday, September 13, 2001, Chandigarh, India


N A T I O N
Terror in USA may hit scheduled events
New Delhi September 12
The terror, unleashed by unprecedented attacks on major landmarks in New York and Washington on Tuesday has put a question mark on significant events scheduled there in the coming week.
Focus on Pak, Afghan nexus
New Delhi, September 12
Worst non-war time terrorist action of the 21st century against the sole super power has brought Pak-Afghan axis in sharp focus as it has not only seriously challenged the mighty but has also put a question mark on the credibility of the USA.


New Delhi, September 12
Security has been enhanced around the US Embassy, the US Information Centre, the US Education Foundation and the US schools in the Capital in the wake of series of devastating bomb explosions in America.

Security personnel guarding the American Center in New Delhi on Wednesday. — PTI photo
WTC collapse sends people in tizzy
New Delhi, September 12
When the news about the collapse of the World Trade Centre flashed across television screens, fear and anxiety gripped thousands of people in the capital who have relatives and friends in New York and Washington.
Nostradamus' prediction comes true
New Delhi, September 12
The "man who saw tomorrow" had given enough clues about the series of terrorist attacks on the world's only superpower — the USA.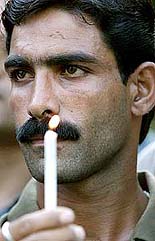 A member of the Bharatiya Janata Party holds a candle during a prayer in Mumbai on Wednesday in memory of the Americans who were killed in a terrorist attack yesterday.— Reuters

Six more die after eating mango kernel
September 12, 2001
Moneylenders 'behind tribal poverty'
September 11, 2001
School for blind blamed for two pupils' deaths
September 10, 2001
PM for making nation literate
September 9, 2001
No move to replace Qureshi
September 8, 2001
CBI seizes Air-India disinvestment files
September 7, 2001
Another tusker found dead
September 6, 2001
Advani to inaugurate DGPs, IGs conference
September 5, 2001
Check funds' flow to insurgents: Advani
September 4, 2001
It's plains versus hills
September 3, 2001