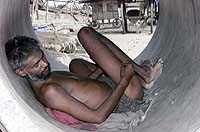 A labourer sleeps inside a sewer pipe during another hot day in New Delhi on Tuesday. After a rainy period in the middle of last month which saw 13 cm of rain, the monsoon has come to an end, and temperatures in the Capital are reaching an average of 35.0 degrees Celsius on a daily basis.
— Reuters
Cabinet okays dissolution of Manipur House
New Delhi, September 4
The Union Cabinet today decided to accept the recommendation of Manipur Governor Ved Marwah to dissolve the 60-member State Legislative Assembly.
Vijay Tendulkar awarded
New Delhi, September 4
Eminent Marathi playwright, journalist and screenplay writer Vijay Tendulkar is this year's recipient of Katha Chudamani Award for his lifetime literary achievement.
Maini is Resident Commissioner
New Delhi, September 4
Mr Jivtesh Singh Maini, Joint Secretary and Financial Adviser to the Ministry of Information Technology, Environment and Forests, Government of India, has taken over as Principal Resident Commissioner, Government of Punjab, Punjab Bhawan, here.
C. P. Thakur gets Prof Seal Award
New Delhi, September 4
Union Health Minister, Dr C P Thakur, has been presented the first Prof S C Seal Memorial Award for his contribution to public health. Presenting the award here today, Vice-President, Mr Krishan Kant, said Dr Thakur's work on Kala-Azar had received both scientific and popular recognition.
SC refuses to vacate stay in Tansi cases
New Delhi, September 4
Virtually declining an immediate relief sought by Tamil Nadu Chief Minister J. Jayalalitha, the Supreme Court today said it would not vacate the stay on her appeals in the Tansi cases in the Madras High Court till the apex court heard the petition of special prosecutor on Friday.
Justice Rangarajan dead
New Delhi, September 4
Justice S. Rangarajan, a retired judge of the Delhi High Court and former Chairman of the MRTP Commission, died in his native Parali village in Karur district of Tamil Nadu yesterday.