Ayub reinvents
Ayub Khan has found out the hard way that in films you are as good as your last hit. And if you haven't got the cash registers jingling, no one's going to recognise you even if you happen to be the nephew of Dilip Kumar.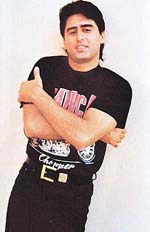 Ayub Khan: Back in demand

After a modest start in Mashooq, Ayub signed a slew of B-grade films all of which turned turnip at the box office. Now with roles drying up, he's turned to television. "I had the option of being content as a second rate film star or picking up good roles on television. I opted for the latter," says Ayub Khan.
True to his intuition, he struck gold on the small screen. With an impressive list of serials, starting from Piya Bina, Alag Alag, Sambandh, Gardish and Muskan , Ayub Khan is knocking at the gates of heaven.
Currently playing the lead in Tu Naseeb Hai Kisi Aur Ka on Sony Entertainment Television, Ayub says that he doesn't mind a dual career in films and TV. And after his significant role in Dil Chahta Hai it would seem Bollywood is taking a second look at the star who first shot to fame as Madhuri Dixit's husband in the critically acclaimed, Mrityudand.
Just pursuit
Love, lust and money make a lethal combination especially in the lives of weak-willed people. Kashish every Tuesday on UTN unveils this truth all over again.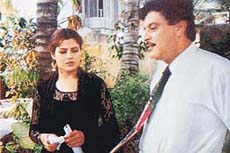 Kashish: Stooping to conquer
The serial revolves around a woman who dares to stand-alone and fight for justice. In her determination to achieve her desired goals she is ready to stoop and conquer even if that means committing herself to her lawyer.
Predictably, she is called upon to choose between her principles on the one side and a desperate bid to succeed on the other. Should she succumb to lust? Should the line dividing right and wrong be blurred in this fight for justice? Find out the answer in this poignant serial which is going along unnoticed on this obscure channel.
Dream machine
What's your idea of a super car — a long-sleek car with loads of accessories or a swanky looking elegant beauty? No says Clarkson, owner of Ferrari 355. A super car is more than just a fashion statement. It's a complete idea, a manifestation of the owner's personality.
In this new series on super-cars, aptly titled Clarkson's Car Years, September 15 on BBC World he tries to take a close look at the best cars in the world and the reasons for their high demand alongwith analysing the finer nuances of the car.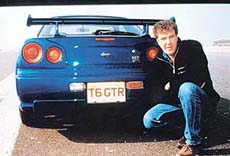 Clarkson's Car Years: Treat for the auto buff

The show is a visual treat for car-lovers. Clarkson re-enacts the events which led to him becoming a Ferrari owner and cheerfully admits that: "I bought the wrong model in the wrong colour, it costs a fortune to run and I never go anywhere in it."
According to Clarkson, the raison d'etre for a super car is to "look good, go fast. Nothing else matters." Also in the programme, he identifies what, for him, is the nicest car to drive [Ferrari 355] and the best of all [Ferrari F40]. The most frustrating super car (Bugatti EB110— impossible to get spares] and the worst super car ever [McLaren F-1].
By the end of the programme, Clarkson concludes that the super car has had its day. Old models tend to be kept in storage as a reminder of the excesses of the eighties, there really aren't any new models worth mentioning and tastes have moved on to more discreet vehicles such as the Audi A8. These, together with burgeoning speed restrictions, call the whole point of a super car into question.
All shaken up!
Here's reason to dance and be happy. Get ready to shake a leg or two with the longest running TV dance and fun show, Boogie Woogie on Sony Entertainment Television every Friday at 8.55 p.m.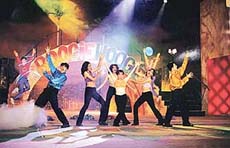 Boogie, Woogie: Dance away your blues

For those who like kids dancing to film songs, this show, the producers claim, has now become funkier and bigger than ever before.
Apart from the best undiscovered dancing talent amongst kids, youth and adults, Javed, Naved and Ravi are bringing to you stars like 'good man' Govinda, 'bad man' Shakti Kapoor, funny man Asrani, TV host Annu Kapoor and singer-actress Rajeshwari Sachdev.
This show is also breaking the boundaries of space and travelling to different locations in Goa and Gujarat to shoot episodes of Bollywood special.
Get set for few latka jhatkas with Boogie Woogie's three dudes — Naved, Javed and Ravi.
The final frontier
Only 50 years after the Wright brothers introduced air travel to the world with a simple two-minute flight, aeroplanes carrying hundreds of ordinary passengers were taking people across oceans to destinations beyond their imaginations.
What does that mean for the future of space exploration today? Fifty years from now, space travel may be as obtainable as a flight from the USA to Australia is today. Discovery Channel ponders the endless possibilities of outer space expeditions with Destination Future: Space Exploration, Saturday, September 22, 7 p.m.
While governments already use space for satellites and space stations, real exploration cannot happen until the cost of space travel drops dramatically. One way to bring that price tag down is to create a demand for space-based industries, like tourism and mining.
The programme looks at new propulsion theories, such as a magnetic tow cable or a special catapult that could launch vehicles into space without incurring "sky high" costs. Once launched, people could transfer to space ships capable of using solar sails or anti-matter drives to travel to nearby planets and from there, leapfrog into deep space.
Scientists explain how they plan to help people overcome the nausea, disorientation, loss of bone and muscle mass, cramped quarters and harsh living conditions that today's space travellers experience. So take this trip and find out what it's like to reach for the stars.
— Mukesh Khosla