Friday, September 21, 2001,
Chandigarh, India


H A R Y A N A
Teachers to work for 5 years in rural areas
Chandigarh, September 20
From now onwards it will be compulsory for teachers recruited direct by the Haryana Education Department to work for the first five years of their service in the rural areas.
Make vote casting compulsory, says Speaker
Panipat, September 20
The Haryana Vidhan Sabha Speaker, Mr Satbir Singh Kadian, today said to curb the increase in political criminalisation, the casting of vote should be made compulsory for all voters and there should be a provision of right to recall in the Constitution.
Principal's murder: remand for accused
Rewari, September 20
Karam Vir, main accused in the double murder case in which a Principal and a lecturer of Government Senior Secondary School Kund were shot by armed youths on August 2, has been remanded in police custody till September 29 by the Chief Judicial Magistrate, Rewari.
Power Utilities fails to install all meters
Chandigarh, September 20
The Haryana authorities are apparently lax in monitoring the magnitude of line losses. While metering of agricultural consumers (to get precise data about consumption of power by unmetered tubewells) is yet to be completed, the Haryana Electricity Regulatory Commission has taken umbrage at the Power Utilities for its failure to instal meters at transmission-distribution interfaces.
SE promoted on court orders
Rohtak, September 20
Mr Ram Mehar, Executive Engineer (Irrigation Department), who was prematurely retired from service by the government on May 16, 1997, has now been promoted as Superintending Engineer with retrospective effect from October 17, 1996.


Hindi version of MS Office launched
Chandigarh, September 20
The Haryana Chief Minister, Mr Om Prakash Chautala, has appreciated Microsoft for launching the Hindi language support of Microsoft Office XP during a Hindi Saptah function here last evening and hoped that it would improve the efficiency of computer users and help check corruption.
7-day police remand for Sanjeev
Hisar, September 20
The Judicial Magistrate, Mr Rajeev Goyal, today remanded Sanjeev Kumar, husband of Sonia, who allegedly murdered eight members of her family, including her father Mr Relu Ram Punia, a former MLA, in police custody for seven days.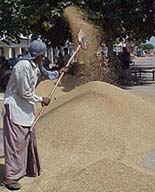 A worker cleans freshly arrived paddy at the new grain market in Ambala city on Thursday.
— Picture N. Chopra



Net in aid of attack victims' kin
September 20, 2001
Solidarity Day against Terrorism observed
September 19, 2001
Haryana cops on high alert
September 18, 2001
Police not equipped to fight terrorism: experts
September 17, 2001
UP traders defraud Haryana of Rs 1 cr
September 16, 2001
Haryana may have defence varsity: Jaswant
September 15, 2001
'UP poll results may trigger
floor-crossing'
September 14, 2001
US disaster to affect scientific industry
September 13, 2001
HUDA to develop urban estates
September 12, 2001
Hefty excise duty on CSD liquor
September 11, 2001