IN PASSING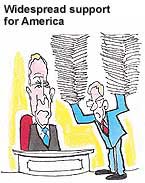 Ifs are on my right, buts on my left.

by Sandeep Joshi
Lashkar fears elimination
New Delhi, September 20
In a development of far-reaching importance to Islamabad's ongoing proxy war against India, militants belonging to two of the hyperactive and most ruthless outfits — Lashkar-e-Toiba (LeT) and Jaish-e-Mohammad (JeM) — have gone into hiding fearing they may be eliminated at the behest of Pakistan.
Blackwill soothes Muslim sentiments
New Delhi, September 20
The US Ambassador to India, Mr Robert Blackwill today attempted to assuage the feelings of Muslims in India by explaining the position of his country to leaders of the community here.
Services Chiefs cancel visits
New Delhi, September 20
The developing security scenario in the Indian sub-continent has forced all three service chiefs to cancel their scheduled visits abroad beginning this week.
TRIBUNE SPECIAL
How Pak-Taliban nexus works: a factsheet
The Pakistan-Taliban nexus was at its height barely a fortnight before the terrorist attack in the USA. According to intelligence reports, a meeting of the Afghan Defence Council (renamed Defence of Pakistan and Afghanistan Council) was held in Islamabad on August 26 in which Pakistan's former ISI chief, Lieut-Gen Hamid Gul, assured the participants that the supply of more sophisticated weaponry would not be a problem as General Musharraf was committed to supporting the Taliban with whatever means necessary.
Taliban ready for talks
September 20, 2001

Taliban set terms
September 19, 2001

Taliban refuse to hand over Bin Laden
September 18, 2001

USA gears up for war; Taliban firm on Laden
September 17, 2001

US marines reach Pak to target Laden
September 16, 2001

USA prepares for war
September 15, 2001

USA mounts pressure on Pak
September 14, 2001

America begins counting its dead
September 13, 2001

10,000 feared dead in attacks on US targets
September 12, 2001

Global slump to have limited impact
September 11, 2001