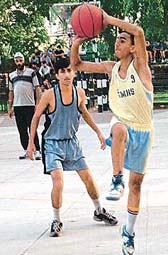 Mohit of GMHS-26, goes for a layup shot against GHPS-38, Chandigarh, in the Youth Basketball Championship at Sector 7, on Friday.
Players fall victim to poor upkeep

Chandigarh, September 21
Mala Gaba entered into two singles finals on the penultimate day of the 13th Chandigarh State Badminton Championships played here today at Sector 42 indoor badminton hall. Mala will face H. Sharda Devi in women singles final, while in junior girls section, she will cross swords with Parnita Verma. Samridhi Mahajan was the first victim of the damaged courts after she slipped on the court number three but fought till the end by playing valiantly in five games against Seema.
Girls' football

Basketball meet

Hansa Open

TT tourney
Tennis on wheelchairs
Chandigarh, September 21
The Total Tennis Academy will organise an exhibition match between wheelchair-borne players at the YMCA, Sector 11, on September 23. India's only international wheelchair tennis players, Jagdish Meena and Pradeep Lal, continue to inspire others by playing tennis while sitting on wheelchairs. Their spirits and agility are a treat to watch.
Basketball meet

Carrom tourney
Surprise check on diagnostic centre
Chandigarh, September 21
The UT Director Health Service, Dr Rameshwar Chander, accompanied by the District RCH Officer, Dr Satbir Singh, conducted a surprise check on Mercury Imaging, a diagnostic centre in Sector 8, here today. According to Dr Chander, the proprietor of the centre had not registered himself under the PNDT Act, 1994, which requires all those conducting sonograophy tests to register themselves with the Directorate of Health and Family Welfare.
Ultimatum to encroachers
SAS Nagar, September 21
The local authorities have given an ultimatum to all violators in the town to remove their encroachments by Monday morning, failing which the administration will have to swing into action.
H.S. Kanwar may replace Gen Mann
Chandigarh, September 21
Major-Gen H.S. Kanwar is expected to take over as Chief of Staff, Western Command, Chandimandir, when the present incumbent, Lt-Gen H.R.S. Mann, retires this month, it is learnt.