M A I N N E W S
Disqualified by SC, Jaya resigns
Panneerselvam sworn in CM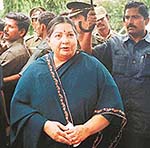 Jayaram Jayalalithaa leaves Raj Bhavan after tendering her resignation on Thursday. — AFP photo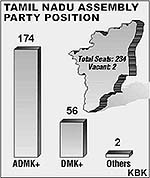 New Delhi, September 21
AIADMK supremo Jayalalithaa resigned today as Tamil Nadu Chief Minister after the Supreme Court unseated her holding that her appointment was a "clear infringement of the Constitution" and gave a norm-setting verdict that a person convicted of a criminal offence and sentenced to more than two years should be barred from such an office.
She met Governor C. Rangarajan in Chennai, hours after a five-judge Constitution Bench of the Supreme Court, in a unanimous verdict, observed "We take the view that the appointment of a person to the office of Chief Minister who is not qualified to hold it should be struck down at the earliest."
Former Governor Fatima Beevi reacted to the Supreme Court verdict saying that she had appointed her as Chief Minister on the understanding of the law as it stood then and now that the court had set the law everybody is bound by it.
Rejecting arguments that people's will is supreme, the court held that "Constitution will prevail over people's will. People's will will prevail only if it is in accordance with the Constitution."
In an obvious reference to the theory that the Governor had no discretion to exercise when the majority party elected its leader, the court said the Governor could decline to swear such a person as the Chief Minister if he was disqualified to become a member of the House.
CHENNAI: Mr O. Panneerselvam was sworn in as the new Tamil Nadu Chief Minister at the head of a 24-member ministry on Friday night.
Barring Mr A.K. Selvaraj, who was the Slum Development Minister in the outgoing ministry, all the other ministers, including three women, found a place in the new Council of Ministers. The governor Dr C. Rangarajan administered the oath of office and secrecy to Mr Panneerselvam and his ministers at a simple ceremony at Raj Bhavan. UNI, PTI