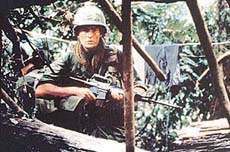 Charlie Sheen in Oliver Stone's Platoon

D.W. Griffith's Hearts of the World (1918) was arguably the most significant war movie made during the silent era. A major propaganda vehicle, it endorsed the USA's participation in World War I while telling the story of a young Frenchman who is separated from his family and his beloved by the war. Casablanca (1942) and The Green Berets (1968) were in a similar vein, well-timed to mobilise support for the then ongoing war.
Lewis Milestone's All Quiet on the Western Front (1930), based on Erich Maria Remarque's classic anti-war novel, was a trail-blazing film with a strong emotional impact. It narrated with sympathy the fortunes of young German soldiers who are lured to fight for the "glory of the Fatherland," only to be exposed to the madness and meaninglessness of war. It is only the camaraderie between them which makes their terrible ordeal less unbearable. Interestingly, Lew Ayres, who played the protagonist, became a staunch pacifist after working in the film.
Stanley Kubrick's Paths of Glory (1957) was set in Verdun (France) during World War I. Two corrupt French generals try to cover up their blunders by making scapegoats of three soldiers. Kirk Douglas, as the compassionate officer, vainly defends the accused against charges of cowardice. Full of powerful sequences, including the disturbing execution scene, Paths of Glory, not surprisingly, was banned in France.
The Bridge on the River Kwai (1957), David Lean's masterpiece, viewed wartime heroism in a dubious light. A stubborn British officer, leading a group of PoWs, builds a bridge for the Japanese, all to prove the superiority of the white man. His excessive dedication to the job takes on an ironical hue when a crack squad is sent to destroy the bridge. Notwithstanding its scepticism, the film has enjoyed great popularity as a spectacular war drama over the years.
Big-budget adventure films in a war setting caught on in the 1960s. Featuring big names, these films glorified war and were escapist in nature. The Guns of Navarone (1961) was perhaps the best of the lot. Starring Gregory Peck, David Niven and Anthony Quinn, it was about a team of commandos sent to a Greek island to destroy a high-security German fortress. Heroes of Telemark (1965), The Dirty Dozen (1967) and Where Eagles Dare (1969) were in the same mould.
Though war is generally regarded as serious business, to be dealt with in all seriousness, some directors have seen the comic, rather farcical, side of it. Comedies mocking follies of men at war and spoofs on war movies have occasionally been made. Catch 22 (1970), based on Joseph Heller's celebrated pacifist novel, is the bizarre tale of Yossarian, a serviceman who desperately tries to be certified insane in order to get discharged. However, he is surrounded by so many madmen that he appears to be the sanest. Despite the somewhat heavy-handed treatment, Catch 22 succeeds in depicting war-time lunacy and chaos with plenty of sarcasm.
Every war throws up an unforgettable figure. One such personality from World War II was "blood-and-guts" Patton. George C. Scott played, rather lived, the role of the controversial general in the 1970 film. It is a fascinating character study of a man who not only achieved much glory but also suffered much ignominy. His fluctuating fortunes are charted in an objective way by director Franklin Schaffner.
The USAdrew a lot of flak, both at home and abroad, for its involvement in the Vietnam war. Michael Cimino's Deer Hunter (1978) was the first big film to tackle this emotive subject. A group of fun-loving friends are thrown into the cauldron of war, which tests their friendship to the hilt and leaves them emotionally scarred. Surprisingly, the film was denounced as pro-war by some in its time.
Oliver Stone pulls no punches in his Vietnam war saga, Platoon (1986), based on his own combat experience. Charlie Sheen is perfectly cast as a sensitive youth who enlists in the army to become a "real" human being. As he witnesses the best and worst sides of human nature, he realises that every soldier has to bear his own cross, fight his own war. Directed with passion and panache, Platoon contains some of the most breathtaking war scenes ever filmed. Stone followed it up with the polemical anti-war saga, Born on the Fourth of July (1989).
Glory (1989), directed by Edward Zwick, is the true story of the first black regiment that fought for the union during the US civil war. A brilliant film highlighting a forgotten chapter of American history, the film boasts of marvellous performances from Matthew Broderick, as the white colonel of the regiment, and Denzel Washington, who plays a black volunteer.
Steven Spielberg's 1998 film Saving Private Ryan created quite a furore due to its blood-curdling, no-holds-barred opening sequence showing the Normandy landings. However, it has much more to it than this scene. The touching story of a US captain searching around France for a person named Ryan, all of whose brothers have died in the war, celebrates true heroism while eschewing jingoism.