Clandestine love
Secret liaisons can be dangerous. And when they happen in the lives of married people, they can break up relationships and spell doom and disaster for all concerned.
Justujoo on Zee TV every Tuesday at 8.30 p.m. is all about a marital relationship gone wrong, very wrong. It revolves around advocate Lalit and wife Leela whose stagnant married life is in desperate need of pep. In comes Leela's younger sister, Neerja, and things start changing dramatically.
Neerja is like a whiff of fresh air and is the exact opposite of her sister — an assertive extrovert who has come to Mumbai for her postgraduate degree in law. Lalit enjoys bantering with Neerja, he feels that he has met someone with whom he can communicate.
Soon enough their bonhomie turns serious and they find themselves embroiled in an extramarital relationship. The family comes to know of the affair and Neerja is forcibly married off but her husband divorces her when he realises she's carrying Lalit's child. There's acrimony all around as she insists on giving birth to the child.
But wait, that's only the beginning. The real story starts when Neerja dies while giving birth to her love child — a baby girl. Justujoo deals with this girl's relationship with her two step-sisters. So don't go away. The serial begins when everyone thinks it has ended!
Musical journey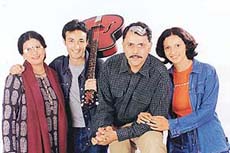 Scene from Deewane to Deewane Hain: Pop goes TV

It's a serial set in our times. About Indians settled abroad who fall for the lure of desi music. No not the classical variety, but bhangra pop that's become the happening music in many western discos.
Deewane to Deewane Hain on Zee Monday to Wednesday, 7.30 p.m. is the story of one such young person who stays in London, doesn't know much about India till he discovers its pulsating music. And lo and behold, he's smitten.
Vicky is a talented singer and aspires to be an Indipop star. He wants to explore India with two objectives in mind — to know more about the music and also to trace back his root in a country he has known only though his parents.
He comes to India along with his long-time friend Jackie and Indian girlfriend Loveleen. The two of them were initially reluctant to accompany him but an unflinching dedication towards Vicky and his goal brings them here. The journey turns out to be incredibly eventful and dramatic as the young man embarks on his musical career.
Though similarities to any living singer may be coincidental, the serial, conceived and developed by Raman Kumar and Vinta Nanda, does bear a resemblance to the lives and times of musicians like Bally, Apache Indian, Lucky Ali and Adnan Sami who've had similar success stories.
Parimoo gets a boost
"I've been waiting for this accolade for years," says Lalit Parimoo about his role in Kangan every Friday on Star Plus.
Eight years ago, when he began acting on stage, critics called him a natural. He went on to do some memorable roles in plays like Sri Ganesh Mahima, Hartal and Mahabhoj. By the time he graduated from Delhi, he knew he wanted to pursue a full-time career in acting.
Initially, the going was extremely tough given the pittance one gets for stage plays. "But there was no option for a struggling actor in those days," says Parimoo.
In 1998, after five years on stage, he decided to shift base to Mumbai from Delhi. The city of dreams turned out to be a happy ground for him as well. He signed on serials like Sigma, Tumhare Liye and the critically acclaimed Maila Aanchal.
And now there's no looking back. He's on the wish list of a number of top TV producers after his role in Kangan. Here he plays a man who is shattered when a woman rejects him. Young and vivacious Chandni is unaware that her parents have found a match for her in Paritosh (Lalit Parimoo), a middle-aged businessman. In all her innocence, Chandni says no calling him a buddha. He falls head over heels in love with Chandni and vows to marry her.
Directed by Asha Parekh, Kangan has been peaking the charts and is doing more for Parimoo than anything else he's done in his life. "It's not just Kangan that has made me popular. It's a decade of experience that shows up in the serial," says Parimoo, confident that it's pay-off time now.
Celebrating 'Sidhuism'
If you watched the Indian-Sri Lanka one-day and the Test series on television, you would have realised there was only one hero and he wasn't on the field. It was Navjot Singh Sidhu who kept viewers entertained with his off-the-cuff comments and let the world know what he thought of some players.
Now Max TV invites you to celebrate 'Sidhuisms' at www.sidhuisms.com, a new website dedicated to the hilarious comments of the former Indian opener. Comments that were discussed as much as the performance of the Indian cricket team!
Here, cricket lovers can go over an exhaustive collection of 'Sidhuisms', can even coin their own and also help update the library. There is a 'Sidhuism of the Day', and a countdown of the most popular saying, for which viewers can vote. Exciting prizes are up for grabs...and Max had plenty of future plans for the site, which will be unveiled shortly.
Says Kacon Sethi, Executive Vice-President, Set India Pvt, and General Manager, Max: "Sidhu says exactly what's on his mind, without mincing words. That's what as made him very popular amongst cricket lovers. Indians play and watch cricket from the heart-and that's the way Sidhu speaks from the commentator's box." So hop on board, and chuckle and chortle along with Sidhu.
Intimate portrait
Vast, startling, gorgeous, astounding in its diversity...African is perhaps the most complex and intriguing continent on Earth. Yet, how many people can claim a real understanding of Africans, their cultures, and how the land shapes their lives?
Now the National Geographic Channel has produced an eight-part documentary, Africa (every Monday 10 pm from September 24 to October 29) that illustrates the dynamic relationship between Africa's human history, environment and culture.
Filmed over two years, Africa is the first TV series to explore the dark continent. "It is the launch pad for a comprehensive exploration of African culture, religious, art, history, ecology, and wildlife," says Christine Weber, series co-executive producers.
Shot in wide-screen 16 mm format, the documentary reveals the stunning beauty of landscapes and wildlife. Each episode of Africa combines the natural history of a different African region with the stories of contemporary people living in what is arguably the least understood continent of the world.
— Mukesh Khosla