According to the Manufacturers Association of Information Technology (MAIT), the grey market operations as a proportion of the total PC market, in India may soon be one of the highest in the world. In 2000 MAIT estimates said the loss of revenues on account of evasion of customs duty, excise duty, sales tax, and octroi for the government was around Rs 1,230 crore.
"MAIT had recommended bringing down to nil all local levies — excise duty and sales tax to help curb the grey market and motivate the assemblers to graduate to the organised sector," Vinnie Mehta, Director, MAIT said in a press release.
"Who says the grey market is illegal? The grey market is legal and every component can be billed. Assemblers can provide lower price, good service, upgradation facilities and buy-back offer. Above all, a system can be tailor-made to suit a particular client's requirement," Sarabjeet Singh from Toos Computers says, adding that even the branded computers are 'assembled' with excise and taxes paid. "Where is the difference," he asks?
The MAIT-IMRB study reveals that PC sales to the home segment has grown by 45 per cent and is predicted to touch 2.5 million units in 2001-02 despite a recession and slump in the Indian economy.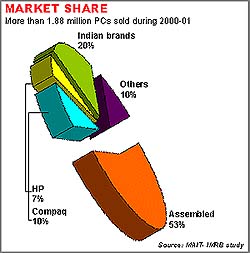 During the past few years, an organised smuggling route has developed, bringing goods straight out of factories in South-East Asia, via Nepal. The components sold are dirt-cheap. The traders make their money on volumes — its turnover, nationwide, is somewhere between $ 200 million and $ 400 million. Prices change every day depending on shipments, demand and supply and the price changes are passed on to the consumer.
When asked to comment on the issue, Kitty Fok, Associate Director, Personal Systems Research, International Data Corporation (IDC) agreed that the problem of grey market was quite serious for countries like China, India and Indonesia.
A shimmer of hope for branded PC manufacturers is that things are beginning to change and assemblers today have a reason to get worried. The PC market in India is attaining maturity, consumers are getting more aware and are at a stage where they can assess the advantages of branded PCs and make an informed buying decision. They are willing to pay a little extra for quality and technology. Today's consumers are now not just looking at price as a purchase driver but are demanding quality, reliability and after-sales service.
Market statistics says it all. Assemblers' market share has come down from 58 per cent to what it is now, 53 per cent. Their loss has been the MNC manufacturers gain. MNC share has increased from 23 to 27 per cent. The reasons are two-folds and not hard to seek.
Firstly, the Indian customer, whose purchase decision could be swayed by pennies is getting pound-wise now. Secondly, the branded PC manufacturers are following a strategy to cut costs consistently through initiatives such as local integration. This has helped bridge the price gap significantly and has helped them increase penetration. Also, they are bundling peripherals together, backing it all with excellent after-sales service and warranty.
Manpreet Singh, who deals in IBM and other branded computers, feels that the home-user segment has increased manifolds mainly owing to the Internet. "This market in itself is extremely large in Chandigarh and is growing," he says adding that it is only recently that PC giants have started focussing on the home segment and have dropped the prices of models targeted at home users.
Earlier, the price difference between a branded and an assembled PC was more than Rs 20,000. Today it is hardly 10,000. And then we have value-added features like printer and Web camera as freebies. It works out to be almost the same. With warranty in his hand, the client knows where exactly to go in case anything goes wrong," Yash Pal Saini from Hewlett-Packard says and avers that there has been a definite shift in the market.
Big corporates like Compaq, HP and HCL are finalising the buy-back schemes for computers and peripherals. This might dent the assembled market further. In the PC market, where once sold-is-old axiom held sway, older PCs might find takers in branded market. Compaq is gearing up to buy back its PCs after a fixed time period and HCL's exchange scheme is already on at the dealers' end. Rajan Rahi, a senior marketing manager, HCL Infosystems Ltd, Noida, comments that they had done some buy-back for corporates and were at present working closely with their partners on the supply and demand creation side to cater to the buy-back need of the Indian IT hardware market. "However, the entire plan is in conceptualisation stage as of now. But at the same time the consumers have been getting a buyback options from HCL channel," he says.
Till now, grey market assemblers were the only ones who were willing to exchange old for new or such machines were purchased by hardware institutes for R&D purposes at throwaway prices.
Naturally, assemblers, who more often than not, work on low margins and high sales volume, have started to feel the pinch. "Yes there has been a slump in the market, Jasdeep Singh, a Sector 17, Chandigarh-based assembler, says. "However, assemblers are here to stay for a long time in the home market-segment at least. Only 10 per cent of them have become brand conscious. For the rest, it is still the money that matters in the ever-increasing home segment," he remarks.
"Whatever be the outcome, assembled market can never be penetrated into. And there is no slump in the market. It's just that the number of players has increased. Even this day, out of 10 buyers who approach me, six want a custom-made assembled machines. The grey market is semi-legal. All components are branded and what's illegal in piecing them together," says Sanjeev Walia, who deals in assembled as well as branded PCs.
It might be too early to jump to the conclusions. Phiroz Vandrevala, Chairman, Nasscom, while talking to Log…in Tribune points out that assemblers are doing too well because of the price factor. "But Indian consumers have realised the benefits offered by the MNC brands and thus we do see this trend changing. We also believe that the implementation of zero duty regime as per the ITA with WTO will hasten the shift to branded products," he says.
Pushpinder Singh from Compaq thinks that home-users for whom the price is a decisive factor may compromise on quality, a corporate, business or educational establishment should never do so as some assembler's after delivering the product or products as the case may be, have vanished. "One of the department in Panjab University, Chandigarh, is feeling the heat as all eight assembled machines have conked off. They have now approached us," he says.
Ironically, a shift towards the MNC branded PCs is proving to be anathema for the Indian and local branded PC segment. The desi stuff is taking a beating and the Indian branded PCs are caught in a snare, down by 5 per cent as compared to previous two years. Their problems are that MNCs have taken the price battle right to them by offering entry-level price points. With their big budgets, MNCs can afford to spend lavishly on advertising, sales and marketing, thereby making a deeper impact. So, either the quality-conscious home segment goes in for MNC brands or seeks assemblers' services if it is price-driven.
For the Indian brands, there are no in-betweens. To hook the client and create a brand identity, there are freebies galore. "We give free UPS, inkjet printer, 100 hours Net connection and CDs free with every Indian branded PC purchased," Vijay Sharma from Vintron computers says and comments that being an in-between has both advantages and disadvantages.
"While comparing prices the important things to be kept in mind are the facts that grey channels sell PCs which are naked without operating systems and don't go through the rigorous testing of the machine. Moreover the quality of components used is suspect. Our PCs come from India's only ISO 9001 and ISO 14000 plants. The Home PCs, Beanstalks, come with 13 month premium Internet connection, optical mouse, Windows Millennium version of operating system, joystick, Internet-ready keyboard, modem high-end graphics with TV-out facility and a host of software. If the value of all this is added and a direct comparison is made even with the MNCs, the value of HCL offering is much more attractive," Rajan Rahi from HCL, an Indian branded PC, claims.
Assemblers just have customised machines and lower prices as trump cards whereas branded PCs have many aces up their sleeves — performance, warranty, after-sales services, reduced price and a lavish dose of freebies. This is a fight that the consumer is winning.