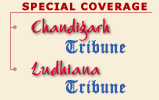 Step forward by Pak: Jaswant
JeM, Lashkar leaders arrested
New Delhi, December 31
India today reacted cautiously to reports from Pakistan of the arrest of leaders of terrorist outfits Jaish-e-Mohammad and Lashkar-e-Toiba, responsible for the December 13 attack on Parliament by terming it as a "step forward in the correct direction".


In video (28k, 56k)

PM ready to discuss any issue
New Delhi, December 31
In a conscious effort to reach out to the people of Pakistan, Prime Minister Atal Behari Vajpayee has said if Islamabad sheds its "anti-India mentality" and takes "effective steps to stop cross-border terrorism," "you will find India willing to walk more than half of the distance to work closely" for resolving any issue, including the contentious issue of Jammu and Kashmir, through dialogue.
SAARC backs India on terrorism
Kathmandu, December 31
India achieved a major diplomatic victory when the Foreign Secretaries of SAARC countries, including Pakistan, today endorsed its proposal to refer the Regional Convention on Suppression of Terrorism to a group of legal experts to widen its scope and make it more effective to deal with the menace in all its forms.
In Education Tribune today