Thursday, January 3, 2002, Chandigarh, India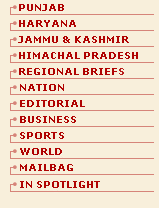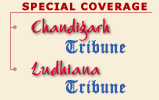 H I M A C H A L P R A D E S H
Attack exposes security lapses
Dharamsala, January 2
The militant attack on Army personnel at the firing range in Damtal on the Himachal-Punjab border has not only exposed the slackness of the Army and the police in taking timely security measures, but has proved the inadequacy of the ill-equipped and untrained Himachal police in fighting terrorism, spilling over from the disturbed state of Jammu and Kashmir.
Cong: Dhumal govt has let down people
Dalhousie, January 2
Mr Shiv Kumar Upmanyu, Chairman, Disciplinary Committee of the Himachal Pradesh Congress Committee has flayed the BJP-led Dhumal government in Himachal for failing to rise to the expectations of its people as it had failed to fulfil its election manifesto.
Board that looks after soldiers, ex-servicemen
Hamirpur, January 2
While brave jawans of Himachal have been performing duties, braving harsh weather and fighting intruders from Pakistan and China, the Himachal Government has launched several welfare schemes for soldiers and ex-servicemen and dependents of those who sacrificed their lives for the nation.
HP Forest Department top heavy
Shimla, January 2
Despite being financially hard up, the Himachal Pradesh Government has gone ahead with making the Forest Department further top heavy by creating two posts of Additional Principal Chief Conservator.
Shifting of ITBP may be reviewed: Dhumal
January 2, 2002
Rush of winter revellers missing
January 1, 2002
Incentives for HP entrepreneurs
December 31, 2001
First website on adolescent education
December 30, 2001
Virbhadra, Stokes share dais
December 29, 2001
Sukh Ram's re-entry will weaken Congress, says Virbhadra
December 28, 2001
HP to have new wildlife, zoo policy
December 27, 2001
Year that kept CM on tenterhooks
December 26, 2001
HPSSB selections: Cong seeks probe
December 25, 2001
Slate mining hits power projects
December 24, 2001