Tele-thrillers
With the ratings war spilling into peopleís homes, itís time for smaller channels to put their act together. Perhaps for the first time in years, all genre of programming is finding viewers. Whether it is mythologicals or soaps, comedies or thrillers, thereís a niche for everything.
And in such a scenario, besides the big three, other channels, too, are getting their act together. Sabe TV, is putting in a great deal in its programming. Itís latest crime series Colonell Mondays to Thursday at 9 a.m. is already notching up robust ratings.
The stories in the series revolve around Colonell (never mind the spelling) a desi version of James Bond, with similar traits. His panache for dealing with crime leaves everyone amazed. Ramesh Bhatkar, who earned a name for himself in and as Commander plays Colonell.
The series has been directed by Gautam Adhikari. In fact, it is interesting to note that when it comes to crime thrillers that were once his forte, Adhikari has not lost his touch. Though the episodes may not be as slick as Sonyís CID, they are still worth a dekko. And many will keep you guessing till the very end with their racy scripts and absorbing storylines.
Young mother of all roles
Itís been the sleeper hit of the year. Even when critics were writing it off as another one of those tear-jerkers, Chhoti Maa... Ek Anokha Bandhan Monday to Friday, 9 p.m. on Zee TV cocked a snook at all doomsayers and is rapidly scaling the charts.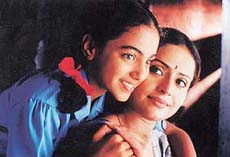 Vaishnavi in Chhoti Maa-Ek Anokha Bandhan... Sterling performance


The serial stands out for its simple narration and absorbing storyline. There are no costly bungalows and high speed cars. Instead, this is the story of a small, happy family of three whose aspirations and needs are few but thereís plenty of love for everyone.
And one person who is ecstatic is lead star Vaishnavi, whose acting career was coming to an abrupt end. After itsy-bitsy roles in four films (two opposite Mithun Chakraborty), she felt it was better to switch mediums than keep doing C-grade films.
After doing inconsequential roles in serials like Chingari, Main Dilli Hoon and Gharana, she struck pay dirt when she was signed for the lead in Shaktimaan. The Mukesh Khanna-dominated serial gave her excellent exposure, but hardly any scope to show her histrionics.
Thatís how she got her break. Vaishnavi was chosen from among 400 aspirants for the lead role in Chhoti Maa-Ek Anokha Bandhan based on a hit Tamil serial, Chitti. She plays a step-mother to a little girl. And she has pulled off a stunning performance.
Producers are lining up to sign Vaishnavi for roles where she plays a young mother. And sheís not refusing. "Iíve struggled enough. Now I am going to accept whatever good role comes my way," says Vaishnavi, on the fast track to becoming a big star of the small screen.
Adieu, Dadamoni
Back in the forties and fifties he symbolised the face of Indian cinema. And when he died last month an era came to an end. In cinematic history Ashok Kumar will go down as one of the all-time greats who alongwith people like Bimal Roy, B.R. Chopra, Dilip Kumar and Guru Dutt shaped a golden future for Hindi films.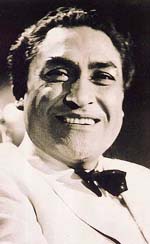 Ashok Kumar.... The legend lives on

As a special tribute, Star Gold salutes one of the most prolific actors of the industry with a retrospective that features films like Bandini, Mahal and Howrah Bridge on 12th, 19th and 26 January at 7 pm respectively.
Ashok Kumar brought natural acting to Hindi cinema, with his persona of the fast-talking, chain-smoking, charming anti-hero. His inimitable style, his animated gesturing and his unique gait reminded viewers of a blend of Cary Grant and Marlon Brando.
Unfettered by the ego that restricted stars, he accepted character roles, setting a trend for others to follow. His matter-of-fact realism in films like Mahal and Kanoon added immeasurably to the eerie suspense of the films.
As an added tribute Star Gold will also telecast a two-part profile on the legend on January 20 and 27 at 11.30 p.m. The icon of Hindi cinema is no more, but his versatility and immaculate performances will always remain in the hearts of all his fans and is sure to ensure a massive viewership for these shows.
Channelising talent
A whole spectrum of young new singers has something in common Zee TVís talent hunt show, Sa Re Ga Ma. They specially thank former programme host Sonu Nigam for turning them from ordinary mortals into singing stars. From Sunidhi Chauhan to Bela the show has discovered a number of gifted singers.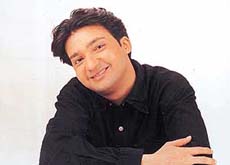 Vakil...boosted by Sa Re Ga Ma

Now another name can be added to the list. Mohammed Vakil who won the mega-finals and impressed stalwarts like Pt. Jasraj, Shiv Kumar Sharma, Hariprasad Chaurasia, Naushad, Kalyanji-Anandji, O.P. Nayyar and Jagjit Singh last year cut his debut album, Kasak.
Now Magnasound has brought him back with Keh Do Keh Do. The album is different from the earlier one in the sense that it has more romantic numbers and weaves a web of soft melody that compliments the soulful lyrics. The video features Amar Upadhya whose claim to fame is that he plays Mihir in Kyunki Saas Bhi Kabhi Bahu Thi.
But it is the music which is captivating. It is evident from his second album that Vakil has the potential to go a long way in the fading world of ghazals. Who knows he could be another Adnan Sami in the making.
New Year plans
Discovery Channel kicks off the year 2002 with an all-new programming line up. With premiere anthologies targeted to specific audiences, viewers will knew exactly what to watch.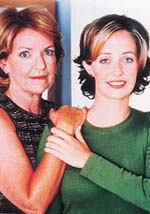 Discoveryís Womenís Hour...Wide variety in 2002

In Classic Discovery, Monday 9 p.m. viewers have the opportunity to tune in to intriguing specials which document historyís greatest people, places and cultures. From heart-wrenching stories of those who perished with the Titanic to real life of an ancient Roman gladiator, the show features the best in history-based programming.
As technology surpasses most peopleís wildest imaginations, weapons of war have become ultra-sophisticated tools that enable governmentís to engage in a new era of warefare. War Zone Thursday 4 p.m. gives viewers insight into this world of stealth bombers and spy gadgets, educating them on the development and capabilities of various military machines.
Womanís Hour presents topics of interest and importance to women of all ages and backgrounds. Issues range from personal healthcare to love and friendship, and the show would help women learn more about themselves, their loved ones and the world around them.
Thereís plenty on view in January. All youíve got to do is to select the date and time and pick and choose your viewing preferences.
ó Mukesh Khosla