Monday, January 14, 2002, Chandigarh, India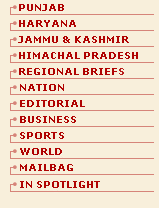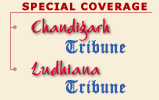 Police to start highway ambulance scheme
Panchkula, January 13
The local police will soon start a highway ambulance scheme in order to provide speedy first-aid to accident victims on highway. According to sources, the police has asked the District Red Cross Society for monetary aid in purchasing ambulances for the purpose.
Flat allottees move court against CHB
Chandigarh, January 13
Alleging deficiency in services of the Chandigarh Housing Board for providing possession of its flats a year later than promised to the allottees-through various schemes floated by it, about 200 cases have been filed before the Consumer Court so far.
STD rate cut may lead to rent hike
Chandigarh, January 13
The reduction in STD rates which are applicable from tonight might land the telephone subscribers paying higher rentals. Connect, a private basic telecom operator in Punjab and Chandigarh, which has also announced slashing of STD rates, has requested the Telecom Regulatory Authority of India (TRAI ) to allow the operators to increase the telephone rentals.
Encroachment on shamlat land?
January 13, 2002
CBI swoops on office, residence of Assistant Excise Commissioner
January 12, 2002
Phokat culture a st(r)ain on City Beautiful
January 11, 2002
City briefly comes to virtual standstill
January 10, 2002
The down-to-earth star is moved by Punjabi warmth
January 9, 2002
Residents pay for parking amid feeble protests
January 8, 2002
Paid parking from today, despite opposition
January 7, 2002
Shocking signal by cable guys
January 6, 2002
Rotational power cuts begin today
January 5, 2002
CAT pulls up UT Admn
January 4, 2002
Engineering institute on PU campus
January 3, 2002