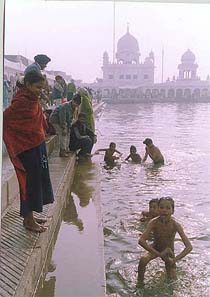 Devotees take a holy dip on the occasion of Maghi Mela at Muktsar on Monday.
— A Tribune photo
Whither 33 pc quota to women?
Chandigarh, January 14
A bias against women is reflected in the list of candidates of almost all parties in fray for Assembly elections in Punjab. Though all parties talk about giving adequate representation to women, that stance is often taken for political reasons. In practice, no party wants to given the due share to women in the political field.


Parties take up power cuts on their agenda
Fatehgarh Sahib, January 14
Frequent power cuts in the district these days have not only made life miserable for senior citizens and affected the studies of students, but has also become an issue during the poll campaigns. Dr Harbans Lal, the Congress candidate from Sirhind constituency, has been raising the issue in his election meetings.


Major revolt in Ropar Congress
Ropar, January 14
Just one day after the announcement of Congress candidates for the forthcoming Assembly elections in the state, a major revolt has surfaced in the Ropar Congress.
Sonia called him personally
Fatehgarh Sahib, January 14
The allotment of the Congress ticket to Mr Bir Devinder Singh from the Kharar constituency has come as a surprise as he had been trying for ticket from the Samana constituency in Patiala.
DCC (Urban) celebrates Amarinder's nomination
Patiala, January 14
The District Congress Committee (Urban) distributed 'ladoos' today on the nomination of the Pradesh Congress President, Capt Amarinder Singh, from the Patiala assembly seat.
Kanwaljit promises more facilities
Dera Bassi, January 14
The Shiromani Akali Dal general secretary, Capt Kanwaljit Singh, and the SAD-BJP candidate for the Banur assembly constituency, today started his election campaign after taking blessings from the estranged mother-in-law of his rival candidate, Ms Sheelam Sohi.


Elderly couple awaits pension
Amritsar, January 14
Lal Singh (85) and his wife Piaro (80) of Dhapai village are waiting endlessly for a pension from the government. They have been forced to eke out a living by begging for food and money from neighbours, who too are now shying away from them.


Warrants against 4 cops
Patiala, January 14
The CBI special magistrate today, issued non-bailable warrants against two police inspectors, Mr Joginder Singh and Mr Gurnam Singh and two assistant sub-inspectors, Mr Shyam Lal and Mr Hajoor Singh of the Punjab Police for unlawful detention and ordered the CBI to detain them and produce them in CBI court on February 21.


Punjab School Board exams from March 6
SAS Nagar, January 14
Annual senior secondary school examinations of the Punjab School Education Board in humanities, science, commerce, agriculture, technical education and vocational streams, beginning on March 6 will end on April 9. The examinations would be held in the evening session.
PCCTU to hold rally on Jan 23
Chandigarh, January 14
The joint action committee of the federation of managements, principals, non-teaching staff and the Punjab and Chandigarh College Teachers Union has decided to hold a rally at Jalandhar on January 23.
Teachers' panel to hold rally on Jan 23
Phagwara, January 14
Pleading with the people of Punjab to either force the government to change its higher education policy or change the government itself in the ensuring elections, the 10,000 strong Joint Action Committee comprising federations, associations and unions of managements, principals, lecturers and non-teaching staff of 172 private colleges of Punjab and Chandigarh today decided to hold a state-level rally in Amritsar on January 23 against the state government's decision to wriggle out of its financial commitments towards higher education.