Friday, January 18, 2002, Chandigarh, India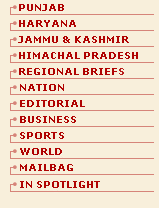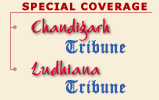 N A T I O N
Jaya to file papers on Jan 24
Says party not dependent on former allies
Chennai, January 17
In a hard-hitting statement against AIADMK's erstwhile allies — the TMC, CPM and CPI — who had snapped ties with it, party supremo Jayalalithaa said today that her party was not dependent on their support and charged them with "choosing a wrong path" by leaving the AIADMK front.
AIADMK Supremo Jayalalithaa addressing a press conference in Chennai on Thursday. — PTI photo
Mayawati's decision causes flutter
Saharanpur, January 17
The decision of Ms Mayawati, Bahujan Samaj Party national vice-president, to contest from the Harora (Reserved) Assembly constituency in this district has caused a flutter in the Western U.P. politics.
Pakistan airlines staff get marching orders
Mumbai, January 17
The Pakistan International Airlines (PIA) has mailed termination letters to its Indian staff here after they refused to accept marching orders. The letters despatched by registered post are said to have been delivered to most of the 19 Indian PIA employees here.
Truck with IAF munitions traced
Gandhinagar, January 17
A privately owned truck carrying ammunition from Madhya Pradesh to the Indian Air Force's Nalia forward airbase in Gujarat went "missing'' this morning in Kheda district but was traced in Kutch, bordering Pakistan, and escorted to its destination.
Farmers resent installation of power meters
Hanumangarh, January 17
Local cultivators are shocked as the Electricity Department prepares for installing meters for about 5000 tubewells in the district following the directions of the Electricity Regulation Commission.
Nominations begin for Assembly poll
January 17, 2002
Gujral: '84 riots were organised
January 16, 2002
BJP's AC culture won't last, says Govindacharya
January 15, 2002
Opposition wants General to act out
January 14, 2002
Pak Intelligence Bureau piqued by ISI
January 13, 2002
EC plays spoilsport
January 12, 2002
BJP-RLD talks on seats
January 11, 2002
Israel against India striking terrorist camps
January 10, 2002
RSS preparing BJP agenda for Uttaranchal
January 9, 2002
Rajasthan policy on religious places upsets Sikhs
January 8, 2002
Make Pak use N-arms for deterrence: analyst
January 7, 2002
'Faulty' cloning led to Dolly's arthritis
January 6, 2002
BJP's plea to VHP on deadline
January 5, 2002