Sunday, January 20, 2002, Chandigarh, India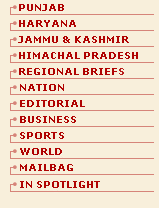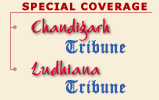 E D I T O R I A L P A G E
| | | |
| --- | --- | --- |
| | PERSPECTIVE | |
Constraints in the study of freedom struggle
V. N. Datta
'Towards Freedom' denotes one of the most crucial phases of our historical past, a past which is both tied up with the evolution of India as a modern society, and its development as a new nation. There is no substitute for primary sources in the writing of history because we hear therein the authentic voice.
KASHMIR DIARY
Tryst with cybercafes
David Devadas
The Government of India is not very popular among some of Srinagar's young lovers these days. No, it's not as if politics runs through their little love lives. It's just that they've lost their favourite meeting spots. Just before the new year, these young couples suddenly found that the cybercafes, where they had often enjoyed hours of uninterrupted private time together, had been forced to close.
USA as shy mediator
January 19, 2002
Old peril in new form
January 18, 2002
A canal of controversy
January 17, 2002
Time for better ties with China
January 16, 2002
Yet another ammo fire
January 15, 2002
George at it again
January 14, 2002
When fate & destiny conspired against Sikhs' victory
January 13, 2002
Negativism to the core
January 12, 2002
Policemen in Raj Bhavans
January 11, 2002
War tax by other name
January 10, 2002
Maharashtra Act for Delhi
January 9, 2002