Monday, January 21, 2002, Chandigarh, India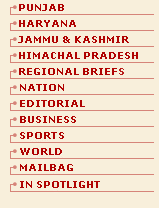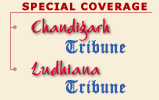 B U S I N E S S
Y O U R M O N E Y
A GUIDE TO PERSONAL FINANCE
Tips for low-budget house buyer
WITH complicated laws governing the real estate and virtual in unavailability of transferable freehold property in the City Beautiful for the low-budget buyer, the only way out left with this segment of buyer is to go for a plot house outside the city limits. The Punjab Government has gone way ahead in promoting real estate trade in the vicinity of Chandigarh.
Year starts with historic low inflation
New Delhi, January 20
Continuing the downward movement for the fourth week, inflation plummetted to an historic low of 1.96 per cent because of economic slowdown, in the first reported week of New Year as compared to over 8 per cent in the same period a year ago.


Real estate returns are good
A high risk investor, Mr A.S. Minhas who puts more than 90 per cent of his savings in equities, says he does so because he can afford to do so. And well, that is precisely what he advises others — do not invest in shares if you cannot afford to take risk and loose.
Private insurers have a long way to go
January 20, 2002
Wipro's profit grows poorly
January 19, 2002
Zhu okays Infosys office in Shanghai
January 18, 2002
Bajaj Auto net zooms 279.81 pc
January 17, 2002
Kerosene, LPG prices likely to go up
January 16, 2002
Banks need mid-level core teams: Jalan
January 15, 2002
Shift from scooters to mobikes
January 14, 2002
15 govt officials owned Enron stocks
January 13, 2002
Speed up power reforms: PM
January 12, 2002
Duty hike to delay financial woes
January 11, 2002