THE TRIBUNE MAGAZINES
On Mondays

On Sundays
On Saturdays

IN PASSING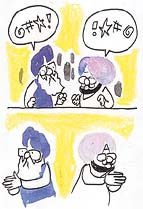 Only we can provide a "clean" government!

by Sandeep Joshi
17 labourers shot in Assam
Guwahati, January 22
Seventeen Bihari labourers, including nine women, were killed, four others were injured and 20 houses set ablaze by the banned National Democratic Front of Bodoland in Assam's Darrang district, official sources said here today.


In video (28k, 56k)


Karzai unhurt in car accident
Tokyo, January 22
Afghan interim leader Hamid Karzai escaped unhurt from a multiple-vehicle collision today on the high-speed Shuto expressway here, the police said.
Warrant against Bhattal
Bathinda, January 22
The case of corruption registered against a former Chief Minister, Ms Rajinder Kaur Bhattal, under Sections 13 of the Prevention of Corruption Act and 409 of the IPC for her alleged involvement in bungling of the Chief Minister's Relief Fund, took a new turn today when a Special Judge issued non-bailable warrant against her.


Badal, Amarinder file papers as 484 candidates enter poll fray
Chandigarh, January 22
The Punjab Chief Minister, Mr Parkash Singh Badal, and some members of his Council of Ministers, the PPCC chief, Capt Amarinder Singh; the leader of the BJP Legislative Party, Mr Balramji Dass Tandon; and the Bahujan Samaj Morcha chief, Mr Satnam Kainth, were among the 484 candidates who filed their nomination papers for various Assembly seats in Punjab on the fifth day of filing of nominations today.


Punjab Chief Minister Parkash Singh Badal files his nomination papers for the Lambi Assembly seat. He is accompanied by his wife, Mrs Surinder Kaur Badal, and son, Mr Sukhbir Badal. — PTI

Cong to change 3 nominees
Send list, we will act fast, Pak told
January 22, 2002

Troops to stay till Pak delivers
January 21, 2002

Pakistan prepares wanted list for India
January 20, 2002

India rules out early talks with Pak
January 19, 2002

Jaswant-Powell talks focus on ultras' list
January 18, 2002

8 killed in avalanches
January 17, 2002

India gives Pak more time to act
January 16, 2002

Act fast, don't test our patience, says George
January 15, 2002

Walk a step, we'll take two, Jaswant tells Pak
January 14, 2002

Musharraf bans LeT, Jaish-e-Mohammad
January 13, 2002

Army chief warns Pak against N-strike
January 12, 2002