Arjan Singh made IAF Marshal
Tribune News Service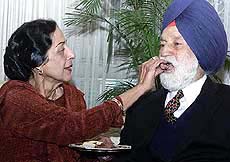 India's first Marshal of the Air Force Arjan Singh being offered a sweet by wife Teji Arjan Singh in New Delhi on Friday. — PTI photo



New Delhi, January 25
On the eve of Republic Day, India's first Air Chief Marshal Arjan Singh has been made the first Marshal of the Indian Air Force, a five-star title equivalent to Field Marshal in the Army.

Prime Minister Atal Behari Vajpayee personally rang him up today to convey the news and congratulated him.

Winner of the British Distinguished Flying Cross (DFC), the 82-year-old Air Chief Marshal was the Chief of Air Staff for four years and 11 months from 1964 to 1969. Previous chiefs of the IAF held the rank of Air Marshal.

Air Chief Marshal Arjan Singh was one of the key officers responsible for the growth of the Indian Air Force into a modern fighting arm and was also a hero of the 1965 Indo-Pak war. He is

credited with giving India the crucial air supremacy in striking Pakistani targets.

He has followed in the footsteps of Field Marshals S.H.F.J. Manekshaw and B.C. Cariappa in getting the highest rank in their service and is a rare Indian pilot to be awarded the DFC.

The IAF, under Air Marshal Arjan Singh, acquitted itself so well during the 1965 war that he got a Padma Vibhushan Bar-one. In 1966, his post was upgraded to Air Chief Marshal and he became the first Indian to get that rank. He was IAF's chief for six years from 1964.

He was commissioned into the Royal Indian Air Force after he was rushed backed to India from England soon after World War II.

He also had a distinguished diplomatic career when he was appointed as India's Ambassador to Switzerland in 1971.