Saturday, January 26, 2002, Chandigarh, India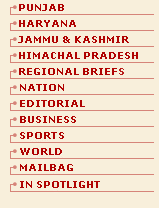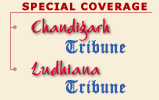 B U S I N E S S
CORPORATE NEWS
ACC net profit spurts 15.64 pc
Mumbai, January 25
Associated Cement Companies Ltd has posted 15.64 per cent rise in net profit at Rs 16.93 crore for the third quarter ended December 31, compared to Rs 14.64 crore for the same period last fiscal.


Novartis India

Larsen & Toubro

SRF

Tata Honeywell

Finolex Cables

JB Chemicals


Marico Industries

Rossell Tea

Rediff.com

Hindustan Const

United Phosphorus

Nicholas Piramal

GRAPHIC: RUPEE AGAINST MAJOR CURRENCIES
AirTel, Essar slash pre-paid card tariff
New Delhi, January 25
Forced by Mahanagar Telephone Nigam Ltd, private cellular operators in Delhi — Bharti and Essar today announced upto 46 per cent reduction in airtime on their pre-paid cellular cards.
Samsung expansion plan for Punjab
Chandigarh, January 25
Samsung Electronics India Information and Telecommunication Ltd, the 100 per cent IT and Telecom subsidiary of Samsung Electronics Co Ltd, Korea, today announced its plans of increasing focus on Punjab.
Tisco net down by 72.95 pc
January 25, 2002
British Gas buys Enron equity in oilfields
January 24, 2002
Hind Lever net rises 25.3 pc
January 23, 2002
Satyam Computer net spurts 36 pc
January 22, 2002
Tips for low-budget house buyer
January 21, 2002
Private insurers have a long way to go
January 20, 2002
Wipro's profit grows poorly
January 19, 2002
Zhu okays Infosys office in Shanghai
January 18, 2002
Bajaj Auto net zooms 279.81 pc
January 17, 2002
Kerosene, LPG prices likely to go up
January 16, 2002