Ominous signals
"We Indians have not been intellectually honest and politicians, who treat the masses as customers, lack the will," is what Kanwal Rekhi, the president of TiE, a non-profit global network of entrepreneurs, said at a recently held conference in New Delhi.
Prof C.K. Prahalad, an eminent management guru, in the same meet concluded that global firms, both IT and non-IT, are on a look-out for new sources, cost reduction, quality improvement, scale and speed - where China has stolen a march over India and it's time that we as Indians started looking beyond dot.coms. "India should become a growth market and focus of manufacturing. To remain in the race, the country would have to create 10 to 15 million jobs a year. There has to be a significant change in the orientation and a balance between domestic and export market would have to be struck," he says. "Or else, it's going to be a poor, inefficient and disenfranchised India."
It's not that VCs are not funding any Indian venture. IT-enabled services, biotechnology, manufacturing sector - VCs are happy to invest in any, albeit cautiously, everywhere and a lot of projects are getting positive response but when it comes to dot.com they get cold feet.
Problems galore
Venture funding is faced with a plethora of problems in India. The biggest is the mindset to fund high-risk projects that may (or may not) give high returns. After burning their fingers in the dotcom debacle, VCs prefer safer routes. "Investments are now moving into IT-enabled services, biotechnology, high-speed networking and even manufacturing segments. Low PC penetration, lack of Net knowledge combined with bad IT infrastructure in the country is putting off the VCs and thus the growth of dotcom companies would not be in the way as was envisaged earlier," Girish, an entrepreneur, says. He opines that if such debacles continue in India, it might stifle innovation, as VCs would just look elsewhere.
Worldwide, according to Webmergers.com, a leading provider of research and services for buyers and sellers of Internet and technology properties, dot.com deaths doubled in 2001 and at least 537 Internet companies were shut down or declared bankruptcy in 2001 - more than twice as many as in 2000. December 2001's 21 shutdowns pushed the two-year total past the 750 mark to 762
The Indian software segment is earning through exports, yet India's share in the global market is not more than 1 per cent. The IT industry is full of entrepreneurs brimming with workable ideas. Shaping and making them work needs a scalable business model and a secure market to sell. Paradoxically, though ideally such ideas are suited for VC funding yet they are service-centric and lack the scale, making the capitalists shy away.
Till two years ago, VCs poured cash into 20 something-initiated start-ups. With the dot.com market doing the vanishing act, investors are getting choosy with their money and definitely brash young things full of ideas do not attract them anymore. Not long ago, e-commerce enabled Websites lured investors simply because the revenue generation models appeared to be a cash cow. The underlying hypothesis was that with proper execution, they might steal a march over their rivals. Not now. Experience and expertise sell more than just bright ideas.
Reasons for demise
Most dot.coms were based on the ad-revenue model that would flow in once there was traffic to the site. Building a loyal traffic itself was a problem with so many dot.coms mushrooming in the same space. Converting whatever traffic they could draw into ad-revenue was another big challenge considering the consumers' surfing behaviour. Since the Net penetration in India has not yet reached a level that could sustain so many dot.coms, the shakeout was, thus, inevitable. Then there was a stiff competition between various entrants when dot.coms were only in their start-up stage. This led to heightened ad spending, each fighting for a share of a small pie. The focus, thus, wrongly moved from value creation for the customers to brand building that was suicidal. Dot.coms funded lavishly by VCs went a bit too far in the brand building game that made achieving a break-even point an arduous task. They focussed on VC and valuations rather than creating value for consumers.
Rajiv Sharma from Premier ISP, a Website developing company, opines that India as a country lacks infrastructure that's putting away the VCs. "Ideas have failed, the mode of payments have failed and what's more some of the dot.commers who jumped in the fray did not rely on their business model. So doom was naturally predictable."
The focus of the future would be the click-and-mortar companies. "Take a closer look and you'll find that most dot.coms that have survived the shakeout were early starters (that is launched before 1999), which had clearly defined revenue streams and have focused on creating value for their customers and visitors in real terms. Many of these have also shifted their focus to offline revenue models. In fact, only those companies that are feasible both online as well as offline would be able to survive," says Amit, a communication manager with a B2B portal.
Whodunnit?
In a hurry to get astronomical returns, the VCs invested in dot.com ideas. What however was important was the actual profitable implementation of the ideas. The people behind such ideas were not able to translate them into sustainable business for reasons stated above. Having failed to do so, they lost confidence with VCs, and so did the dotcom-based business plans.
"Venture capitalists presumed that dot.coms were magical ventures that would give a high rate of return within a short span of time. VCs should have been levelheaded while investing and should have studied feasibility. Creative ideas are different from workable business models," an executive in a US-based company says. "Further, the Indian industry lacked trained professionals," she adds.
Budding entrepreneurs too were not all clean. Some of them deliberately cheated the VCs. There were a few who thought they could get almost any kind of investment just because they were dot.commers. Then there were copycats plagiarising others' ideas. Another category was of over-adventurous, over-zealous entrepreneurs who committed dot.com harakiri when they pushed ahead with idea B after idea A was a runaway success.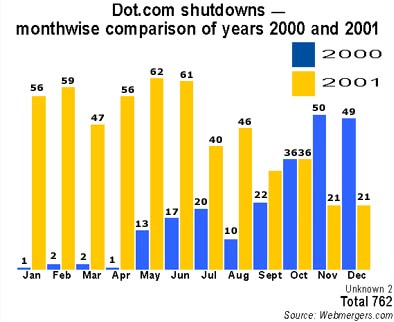 Rosy future
The venture-backed IPO (Initial Public Offering) market rebounded in the 4th quarter of last year. Fourteen US venture backed companies raised $1.45 billion, though this was still down by 30 per cent from a year ago period. The fourth quarter of 2001 was the largest in terms of both the number and the dollar volume of venture backed IPOs, according to Indiapost.com, a weekly-news portal.
The Government of India has already taken steps to facilitate the creation of an environment that is conducive for VC funds and start-ups in India, including the establishment of government facilitated venture capital funds and allowing venture capital funds to offset losses incurred in one company against profits from another. "However, the present regulatory framework is still not enough to provide for an environment that lays stress on encouraging the flow of venture funds, easy exit options (for either party), mentoring, non-qualified availability of funds, and flow of public funds for enterprise building in India," says Nasscom.
Indian dotcom market has yet to see mature entrepreneurs who not only have a sound business idea and the domain knowledge but also a competent team to translate these into a sustainable business in a long run. Besides, too many players vying for the same "half-baked" pie left everyone hungry. It's not that all dot.com ideas are a failure. Take for example, Indiamart, an e-commerce portal: "We concentrated matching our costs with the revenues from the very beginning and broke even within the very first year of launch. Our portal has shown growth at an average rate of 110 per cent per annum. The main problem with most of the VC funded dot.coms was that many of them were ahead of times and died down even before consumers could actually understand their use and start benefiting from them. Moreover, the Net user base in India is not ripe for all kinds of online services therefore investments made should be well justified," Dinesh Aggarwal, the CEO of the company says.
"There has been no slowdown. The reality is that ideas still sell and the business is on the rise. In fact if the business doesn't exist on the Net, it doesn't exist at all in today's scenario. Therefore, new ideas still flood the WWW. But yes, finding funding agencies is a problem," says Gaurav Kumar, a Panchkula-based Web developer, who already has more than six sites to his credit and is busy developing a new one based on the multi-level marketing concept.
Nasscom, as part of its study conducted in conjunction with McKinsey & Co., has set a target of achieving at least $ 10 billion of annual venture capital investment in Indian high technology companies by 2008, provided India encourages the growth of risk capital by amending regulatory framework so that the VC funds can earn a reasonable return on their risk capital. Secondly, India should actively promote the infusion of VC skills and capabilities, either by attracting global VC funds or attracting managers from these funds.
"Why is it that almost everything on the Net is free? The users should be made buyers. That way quite a few dot.coms could become feasible revenue generating models. The Government should also devise means to supplement the capital pool to boost entrepreneurship. This could very well be on profit-sharing basis and the successful project should be backed by media hype. That way it would set a positive example for others to emulate. Further, VCs from abroad are not comfortable and familiar with Indian methods of doing business. A conducive atmosphere has to be created," an executive from a VCs firm says.