EC to send 12 more observers to Punjab
New Delhi, January 29
To prevent the misuse of official machinery and other poll malpractices, the Election Commission (EC) has decided to send 12 more central poll observers to Punjab, which is going for Assembly poll on February 13.



Importance of Malwa in Punjab politics
Chandigarh, January 29
After the reorganisation of Punjab in 1966 Malwa remains an Akali fortress. The last demarcation of the assembly constituencies, incidentally, was done in a manner to reduce the numerical superiority of the Sikh peasantry by apportioning disproportionately large number of villages where they were generally in a majority to the neighbouring Hindu-dominated cities and towns.

Cong expels 6 ex-ministers
Patiala, January 29
Taking a defiant stand, the Punjab Pradesh Congress Committee (PPCC) chief, Capt Amarinder Singh, today expelled 21 Congressmen from the primary membership of the party for a period of six years. These rebels had risen the banner of revolt by deciding to contest against the official Congress and CPI candidates, the alliance partners in the forthcoming Assembly poll.



The 917 candidates who are in the fray
Chandigarh, January 29
The following is the list of candidates left in the fray in the Punjab Assembly elections after the last date of withdrawals yesterday: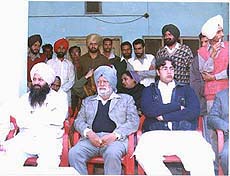 Harcharan Singh Brar flanked by Avtar Singh Sidhu, DCC chief, Muktsar, and his grandson Harsimran Singh Brar at a rally in Bariwala village in the Muktsar assembly constituency on Tuesday.
— Tribune photo
PROFILE OF CONSTITUENCIES
Retaining seats on work of 5 yrs tough
Patiala, January 29
Finance Minister Capt Kanwaljit Singh and Local Bodies Minister Balramji Das Tandon are prominent SAD-BJP candidates in this district who will be fighting a no-holds-barred battle to save their seats.
Banur campaigning on two-wheelers
Banur (Patiala), January 29
During his election campaign, the General Secretary of the Shiromani Akali Dal and a candidate of the SAD-BJP alliance from the Banur Assembly constituency, Capt. Kanwaljit Singh, today completed his first round of the constituency.
Rebels give nominees sleepless nights
Sangrur, January 29
By not withdrawing their nomination papers yesterday, the rebel candidates of the Congress and the Shiromani Akali Dal (SAD) in this district will now force the official candidates of both parties to spend sleepless nights till the elections are held on February 13 as some of them have mass base in their respective areas.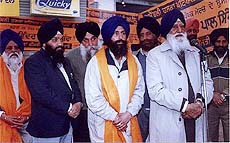 Member of Parliament and SHSASD president Jathedar Gurcharan Singh Tohra addresses a rally in favour of Jaswinder Pal Singh Chadda, a party candidate from Patiala Town.
Ex-servicemen to support Kang
SAS Nagar, January 29
A group of ex-servicemen and retired personnel of para-military forces today announced their support to the SAD candidate from the Kharar assembly seat, Mr Kiran Bir Singh Kang.
Govt 'has failed' on employment front
Dera Bassi, January 29
The Shiromani Akali Dal-Bharatiya Janata Party alliance government has failed to eradicate unemployment from the state during its rule of five years. The increasing number of unemployed youth may hamper peace in the state in the years to come.
Panthic Morcha manifesto today
Sunam, January 29
Prof Prem Singh Chandumajra, general secretary of the Sarb Hind Shiromani Akali Dal (SHSAD) and a senior leader of the Panthic Morcha, yesterday announced that in case the Panthic Morcha is voted to power, it would set up a Commission to expose the corrupt activities of the Congress and the SAD ministers in their respective regimes.
Cong leader denies links with NCP
Bathinda, January 29
Mr Shiv Chand, a former minister, today denied that he was associated with those who were trying to project the National Congress Party (NCP), a major force in the coming Assembly elections, by putting up dissatisfied Congressmen, who were denied party ticket as NCP candidates for February 13 poll.
Police Department sans funds
Bathinda, January 29
Even as this district of Punjab, bordering Haryana and Rajasthan, has become sensitive after the terrorist strikes in various parts of the country in the recent past and start of election process, the district police authorities due to acute financial crunch have been finding it difficult to keep police personnel fit and brave enough to meet any challenge.
Cockfighting returns with vengeance
Patiala, January 29
Swanky cars, armed policemen and mobile telephones in every second hand — it is neither an election rally nor any VIP's visit, but the illegal "sport" of cockfighting at its climax. Behind this excitement is a trail of bets worth thousands of rupees and sadistic pleasure that hundreds of spectators gathered at the spot derive from this bloody act.
Jacob inaugurates seminar
Patiala, January 29
The Chancellor of Punjabi University, Lieut Gen J.F.R. Jacob, today inaugurated an international seminar on "Contribution of interfaith work to social harmony and world peace" being organised by Punjabi University in collaboration with the World Faith Congress at the university's Senate Hall.
His devotion to duty pays off
Chandigarh, January 29
It was a singular honour for Raikot, a small town in Ludhiana district of Punjab, when the Param Vashisht Seva Medal was confirmed on a son of its soil, Lieut-Gen Harcharan Singh, on Republic Day by the President of India. This is the highest peace-time award given to Army personnel for distinguished service.
Guidelines soon for infertility centres
Jalandhar, January 29
The National Academy of Medical Sciences is planning to come out with a charter enlisting norms and guidelines for functioning of infertility centres in the country.
Anti-Corruption Society chief arrested
Jalandhar, January 29
The district police today arrested president of the local unit of the Anti-Corruption Society Jeet Kumar Anand for harbouring Naresh Kapur, an accused in the multi-crore fake Indra Vikas Patras case.

India to host world teachers' conference
Ludhiana, January 29
The All-India Federation of University and College Teachers' Organisation (AIFUCTO) has decided to host the annual conference of the World Federation of Teachers' Organisation in New Delhi this year.