Mike Tyson wipes the sweat from his brow while appearing before the Nevada State Athletic Commission in Las Vegas on Tuesday. Commissioners denied troubled Tyson a license to fight world champion Lennox Lewis, barring the lucrative April bout from Las Vegas.
— Reuters

British boxer and heavyweight champion of the world Lennox Lewis points at his leg as he holds a news conference in London on Wednesday. Lewis claimed that US boxer Mike Tyson bit his leg during a brawl at a news conference in New York to announce their forthcoming title fight in Las Vegas. — Reuters
Mixed luck for Indians in ITF junior meet
Chandigarh, January 30
There was mixed luck for Indian tennis players on the third day of the ITF Junior World Ranking Tennis Tournament in progress here at the tennis stadium, Sector 10, when all the entrants in the boys singles semifinals were Indians, while in the girls section, none of the Indian eves could make it to the last four.
Hockey title for Jalandhar lads
New Delhi, January 30
Government Model Senior Secondary School, Jalandhar edged out SGPS Academy, Sri Bhaini Sahib, 3-2 to lift the 30th Nehru-Nestle Junior Hockey Tournament title at the Shivaji Stadium here today. The Jalandhar school were awarded a cash prize of Rs 1,00,000 while Bhaini Sahib took home Rs 60,000.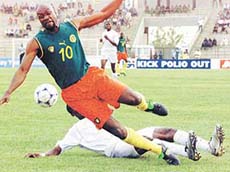 Cameroon's defender Mboma Dem Parick Henri (front) falls under a tackle from Togo's Akoto Eric during their African Nations Cup soccer match in Sikasso stadium in Mali on Tuesday. Cameroon won the match 3-0. — Reuters
NFL: Salgaocar hold Bagan
Kolkata, January 30
Favourites Mohun Bagan were held goal-less by strong contenders Salgaocar of Goa in the crucial tenth round tie of the 6th National Football League here today. The barren encounter obviously helped the Goan outfit in the away match because the Kolkata giants would have to play the second leg of the match at Margao, the home ground of Salgaocar.
Phagwara, Banga teams win
Chandigarh, January 30
Guru Nanak College, Phagwara, defeated Khalsa College, Garshankar 3-0 on the third day of the 40th Principal Harbhajan Singh Memorial Football Tournament currently under way at Mahilpur today.
Exhibition basketball matches
Ludhiana, January 30
An International men's basketball exhibition match between a Canadian outfit and Punjab XI will be played here on February 2. According to Mr R.S. Gill, president, Punjab Basketball Association. The visitors will play two matches on February 1 and 2 at Jalandhar and Ludhiana respectively. Punjab Police cagers will play against the guests at Jalandhar.