Friday, February 8, 2002, Chandigarh, India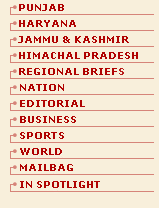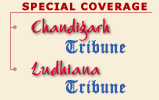 B U S I N E S S
India, Russia to develop aircraft
New Delhi, February 7
India and Russia today signed a trade protocol to give a further boost to the existing $1.5 billion bilateral trade and identified new areas of cooperation, including development of a 100-seater multi-purpose transport aircraft, diamond and computers, banking and nuclear energy.
In video (28k, 56k)

Union Finance Minister Yashwant Sinha with Russian Deputy Prime Minister Ilya Klevanov in New Delhi on Thursday.
— PTI photo
India seeks textile concessions
New Delhi February 7
India today sought from the USA concessions pertaining to market access in textiles in same terms as with other trading partners even as the USA asked India to unleash a more liberal economic regime involving a reduction in subsidies to achieve the planned economic growth rate of 8 to 9 per cent.
Facelift with asses' milk!
Frankfurt, February 7
Queen Cleopatra's enthusiasm for a bath in asses' milk show the ancient Egyptians knew about the beauty benefits of natural products. Two thousand years later the modern world is rediscovering this principle.
India, Russia to boost trade
February 7, 2002
Govt forecasts 5.4 pc economic growth
February 6, 2002
Anti-dumping duties on textile opposed
February 5, 2002
The dark side of capitalism
February 4, 2002
LIC relaunches pension plans
February 3, 2002
GAIL ties up with Escotel, Escorts Tele
February 2, 2002
Reliance net rises 20.17 pc at 822 cr
February 1, 2002
VSNL pays record dividend, net falls
January 31, 2002
Ranbaxy net profit up 4.1 pc
January 30, 2002
Slow progress of reforms can hit relations: Blackwill
January 29, 2002